Scoutmaster Musings

Archives:
2023 -
Apr
2022
2021
2020
2019
2018
2017
2016
2015
2014
2013
2012
2011
2010
2009
2008
2007
2006
2005
Survey - Cost of Scouting
Are you curious what a typical year of Scouting really costs?
With annual fee increases, it is a common discussion topic online. Here's your chance to help quantify the actual current costs to see how they've changed over the past couple years.
Fill out this
anonymous survey
about costs for your scout. No email or other personal info is needed, just your honest best estimates.
I'll share the results here next month - data such as the average council fee, average unit fee, average cost of high adventure treks.
Scout On!
Posted: 10:24 10-14-2022 1374
---
Cityscape Adventure Base
Which logo will it be? These are leaked potential logo designs for the latest BSA property.
BSA is secretly developing a 5th high adventure base. We currently have Philmont in New Mexico, Northern Tier in Minnesota, Sea Base in Florida, and The Summit in West Virginia. For years, these locations have been at capacity with lotteries to choose visitors. To complement these amazing venues, and to allow more scouts to participate each year, the new Cityscape high adventure base will be built in Chicago, Illinois. Groundbreaking is to begin in September, 2022 and the base should be finished by spring 2024.
The BSA has quietly purchased a few key properties in downtown Chicago and will use public infrastructure to tie these properties together into a cohesive adventure park. While plans are not yet being shared publicly, I was able to pull the following details from my mole on the inside at National in Texas. It looks like the activities will be a great way to challenge scouts searching for more dramatic treks than hiking or sitting on a boat or canoe for 10 days.
Many tried and true summer camp activities, such as rifle shooting and climbing, will be offered. But, in an effort to amp up the adventure level, twists on these activities as well as brand new ones will be available. Here are a few of the highlight features of Cityscape I was able to gather:
Wall Climb - Recognizing that scouts are tired of the same old climbing wall at every summer camp, magnetized boots allow scouts to literally run up a 100 foot vertical surface. A great competition between SPLs from different troops! The Zip Line loading area is a short walk along the top of the wall.

Zip Line - Nothing like the zip line at the Summit, this one flies participants through cutout holes in buildings, past flashing neon lights, and even includes sharp turns and spirals thanks to advanced new geo-orbital tech from a generous Tesla grant.

Ferris Wheel Climb - After completing the Wall Climb, scouts can advance their skills by climbing the exostructure of a 115 foot tall ferris wheel. The views from the top are wonderful. From the top, scouts can either climb down a ladder, or traverse a short catwalk to the Leap of Faith staging area.

Leap of Faith - Scouts free fall 5 stories from the roof of an abandoned Sears warehouse onto a movie stunt airbag. Sure to be a favorite!

Train Jump - Scouts load into a repurposed elevated train car and then jump off, aiming for scored targets on a shock-absorbing polymer landing pad. Top scores from each week are announced at the closing campfire.

Knife Throwing - Tomahawks are also available, but the knifes are perfectly balanced and make hitting the non-human moving targets an easy win.

Rifle Range - What scout venue does not have rifle shooting? Cityscape developed a new rifle specifically for Scouting. The cartridge can be loaded with BBs, .22, or .30-06 caliber ammunition. For Venturers, a security key enables semi-automatic fire capability.

Tattoos - To remember their week at camp, Cityscape campers can choose from over 50 tattoos and have them inked by an AutoTat3000 in less than 5 minutes. If these designs aren't just what a scout wants, personal designs can be created, loaded, and inked but there is a small additional fee for this.
I believe the summer 2024 dates will fill quickly, so expect a lottery announcement in about a year. Good luck, and enjoy your April 1st.
Posted: 6:21 04-01-2022 1373
---
R U Going?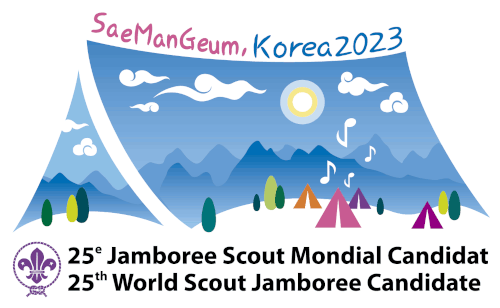 R U Going to Jambo?
The 2023 USA Scout Jamboree dates were announced today - July 19-28, 2023 - and the Jambo website is up and running. Pretty exciting stuff for a Wednesday!
Enter your email at that site to stay informed of details as they unfold. It's not too early to start planning how to get your scouts to this massive Scouting event. The last national jamboree was in 2017 with a theme of "Live Scouting's Adventure" but then the 2021 jambo was cancelled due to, well, you know... that covid thing.
The 1973 jambo is the alltime high record with 73,610 participants, but that was held in two locations. 1960's single location, in Colorado Springs, set the single location record of 56,377. 2023 probably won't set any attendance records, but it has been six years, so who knows?
If that's not enough excitement, how about attending the 2023 World Scout Jamboree in South Korea on August 1-12, 2023? The theme for this jambo is "Draw Your Dream" and it celebrates South Korea's 100th birthday of Scouting. What an exciting year for some Scouts BSA members to attend the National Jambo AND be in the US contingent to the World Jambo the next week? Do you think anyone will do it?
That would be a big time and $$$ commitment, but what a super summer of Scouting!
Scout On
Posted: 21:07 09-29-2021 1372
---
EPA 50th Award
The Environmental Protection Agency turned 50 last year, so the BSA and EPA came up with a special, limited-time award that scouts can only earn during 2021. So, you've got 3 months left to get 'er done! Fortunately, if you've got some merit badges under your belt, it's pretty easy to earn.
A scout needs to learn about human health and the environment through merit badges and service. The simple requirements to earn the award are (completed in any order):
During 2021, participate in an approved Scouting service project of at least 6 hours and that is environmental or public health oriented.
Earn the Public Health merit badge
Earn a merit badge from this list of Animal Study badges: Animal Science, Bird Study, Insect Study, Mammal Study, or Reptile and Amphibian Study
Earn a merit badge from this list of Earth Science badges: Energy, Forestry, Geology, Nature, Oceanography, Plan Science, Soil and Water Conservation, Weather
Earn a merit badge from this list of Outdoor Activity badges: Backpacking, Camping, Canoeing, Climbing, Fishing, Fly-Fishing, Gardening, Hiking, Kayaking, Scuba Diving, Whitewater, Wilderness Survival
The merit badges can be earned in 2021 or have already been earned previously.
The unit leader completes and brings this application to their local Scout Shop to get a recognition patch.
Some service project ideas are: trail maintenance, clear garbage from a stream, plant trees or flowers, make bird feeders, birdhouses, bat houses, collect recyclables, remove trash from a park, eradicate invasive species. The scout does not need to Lead the project, only participate - so participating in someone's Eagle service project or other troop project could count.
Posted: 10:19 09-13-2021 1371
---
Purge the Pandemic
It's been a bit of a rough year for Scouting in America, and around the world. The covid 19 pandemic made it more challenging for all aspects of Scouting, but did not hinder motivated scouts, adult volunteers, and supporters from keeping the program thriving.
During the time of Scouting at home, online meetings, and virtual Courts of Honor, some of the social skills of our scouts have become rusty from lack of use. Now, with pandemic numbers dropping, vaccinations being distributed, and social restrictions gradually being reduced, it's the perfect time to roll out the new Socializing Merit Badge! The requirements for this prestigious recognition help scouts re-build their lost social skills as in-person activities become more safe and common, and we work towards purging the pandemic.
Summer camps, high adventure bases, and campgrounds are all preparing to welcome Scout groups for outdoor experiences this summer, and that will mean more face-to-face interaction. Earning this one gives scouts confidence in knowing how to socially interact, plus many studies have shown that scouts earning this merit badge have 553% more fun, receive 813% better grades, earn Eagle 692% faster, and fall for jokes 944% less often.
This Socializing merit badge will help us all purge the pandemic.
Scout On! (or get some
patches
now in prep for the ending of the covid 19 pandemic)
Posted: 6:23 04-01-2021 1370
---
Scouts In the News
Today, scouts are in the news for quite a range of topics. The most common two reasons for a scout to be in the news are their Eagle rank and their obituary. But, here are a few different news topics regarding Scouting:
So, congratulations to those new Eagles, keep doing good deeds, and keep an eye on your trailer.
Scout On!
Posted: 12:04 08-13-2020 1369
---
Scouting at Home
Scouting at Home
Patch: Cub Scout or Scouts BSA
Two weeks ago, most people though Zoom was the sound a sports car made. Now, it's the most mentioned remote meeting software around, and being used by thousands of Scouts when they are scouting at home. This strange looking little virus has tipped things over, messed things up, and changed lives for months to come.
With our national guidance to postpone all face-to-face scouting, many adult volunteers have put in a lot of effort to shift how scouting can be done safely from home, in isolation, until the world is a bit less contagious. It's certainly not the prefered scout experience, but we can continue to prepare young people to make ethical and moral choices over their lifetimes by instilling in them the values of the Scout Oath and Law.
Thanks to these volunteers, new ideas to handle events, camping, advancement, and other scouting topics are popping every day. Here's a few for you to consider...
Some Scouting folks are saying that we're all Lone Scouts now, and advancement should be handled like the Lone Scout program until the "All Clear" is given to resume face-to-face Scouting. That sounds like a good idea, but since the Lone Scout program is NOT a watered down version of the Scouts BSA program, it won't change much.
The BSA has a nice Lone Scout Guidebook for the scout and their guide. This PDF file explains the program thoroughly and mentions three key topics in this discussion.
Trained Leaders: The Lone Scout program expects each adult involved with a scout to know the program and be a trained leader. Since that is not the case in most scouting families, a scout's parent is often not an appropriate person to sign off on advancement. For example, First Class requirement 4a has the scout use a map and compass, and estimate height and width of structures - many adults would have no idea how to do this.
Different Requirements: On page 18 of the Lone Scout Guidebook, a section on Limited Flexibility in Requirements is written. It states "In some instances, family members, neighbors, or friends can be used in place of a den, pack, or troop" - so some requirements, such as cooking for your patrol, could be done for your family.
Also in this section, "Where meeting requirements as written is not possible, a Lone Scout friend and counselor may suggest equal or very similar alternative requirements. These must have council advancement committee preapproval." - there are some requirements that simply can not be done by most scouts right now - without at least a large swimming pool available, First Class requirement 6a is not possible. If you wanted to perform the swim test in a pool at home, approval from your council would be needed first.
Camping: On page 12, in the Safety Rule of Four, it states "...counselor and a Lone Scout who are parent and child may camp alone together in settings where medical services are readily available..." - so a scout and parent could camp overnight in their community.
Leadership: For Star rank and above, Lone Scouts need to demonstrate leadership. Rather than troop leadership, they can lead school, religious, or club groups.
Of all the potential Lone Scout benefits in this time, I think that modifying the Camping guidelines to be available for all scouts is the most useful. The Leadership requirements require a group, just like other scouts, and all other requirements are the same.
Remote Scouting
Every BSA council has some sort of response to COVID-19 on their website. Many of them are organizing virtual camporees, virtual merit badge clinics, and other virtual events held online.
You might find a more convenient event for your scout at a council across the country. There is a chance that all these efforts now may fundamentally change how merit badges are earned in the future.
I spent a couple hours searching and found this sampling of Councils with Online Virtual Resources and Events. Check them out:
Posted: 17:01 04-04-2020 1368
---
Social Distancing MB Available
The new leadership at National has been promising a more streamlined organization able to make big decisions and implement program changes quickly. Well, today they've convinced me with this new addition to the Scouts BSA program.
I have no idea how they did it so fast, but the
Social Distancing Merit Badge
was announced today. Read the new requirements!
The patch and merit badge pamphlet are being distributed to local scout shops now, but they are already available online at ScoutShop.org if you've got an over-eager scout wanting to start.
I applaud the BSA for their continued commitment to expanding the range of merit badges, having added
Tattoo merit badge
,
Walking merit badge
, and
Hunting merit badge
over the last few years.
Buy Social Distancing patches
for your scouts.
Posted: 6:12 04-01-2020 1367
---
Movies about Scouting
Missing the "outing" part of Scouting? For those long days of social isolation, there are a bunch of movies that feature Scouting. Some of them are pretty awful, but some are still classics, and some will make you never want to camp again!
Here's a handful that are links to their amazon pages so you can check them out.
This list is in rough order of Most Appropriate to Least Appropriate for scouts to watch - review them before showing scouts.
Are one of these your fav? There are a lot more, so please add any other suggestions you have...
---
While not
Scouting
specific, here's
101 free videos
about outdoor sports and cultures to pass the time. They are of various lengths and quality...
Scout On!
Posted: 11:32 03-26-2020 1366
---
COVID-19 Merit Badges
While being socially distant and helping to Flatten That Curve, scouts can give these relevant merit badges a look since they pertain to our current environment:
There are also a lot of merit badges that include quite a bit of self-study for the requirements. With extra time on their hands, here's a bunch that any scout can make good progress on individually with no need to leave home:
Scout On!
Posted: 16:49 03-13-2020 1365
---
HBD, LRBP & OBP
Happy Birthday to Lord Robert Baden-Powell!
Little Bobbie was born on February 22, 1857 and would grow up to eventually start the Scouting movement that has encompassed the globe, so today is celebrated as
Scouts' Day
,
Founders' Day
, and
Guides' Day
.
It is called Founders' Day instead of Founder's Day because Robert founded Scouting for boys and girls with his sister, Agnes.
Today is also the birthday of the girl who would grow up to marry Robert and be an integral part of early scouting, Olave St. Clair Baden-Powell. They met in 1912, on the RMSP Arcadian while sailing through the Caribbean to New York. They got married the day before Halloween that same year - quite a whirlwind romance, huh? He was 56 and she was 24 when they married.
Scout-Guide Week
is celebrated right now in Canada. It is the week on which February 22 falls.
And, it's
World Thinking Day
also - a day for scouts to think about and appreciate all their scouting sisters and brothers around the world.
One more thing - if your children are grown and you think you're too old for any more Scouting, consider that Lord Baden-Powell did all of his work with boy and girl Scouts after he turned 50 years old.
Scout On!
Posted: 8:08 02-22-2020 1364
---
BSA Bankruptcy Letter
Today's letter from the national Boy Scouts of America leadership...
Dear Scouting Family,
Today, the national organization of the Boy Scouts of America (BSA) filed for Chapter 11 bankruptcy to achieve two key objectives: equitably compensate victims who were harmed during their time in Scouting and continue to carry out Scouting's mission for years to come.
While the word "bankruptcy" can be intimidating,
it is important to know that Scouting programs will continue
. Your regular unit meetings and activities, district and council events, other Scouting adventures and countless service projects will take place as usual.
We took this action today amid increasing financial pressure on the BSA from litigation involving past abuse in Scouting. We are outraged that there have been times when individuals took advantage of our programs to abuse innocent children and sincerely apologize to anyone who was harmed during their time in Scouting. We believe victims, we support them, we provide counseling by a provider of their choice, and we encourage them to come forward. Our plan is to use this Chapter 11 process to create a Trust that would provide equitable compensation to these individuals.
As we go through this process, we want to make certain that all Scouting parents and volunteers know the following:
Scouting is safer now than ever before. Approximately 90% of the pending and asserted claims against the BSA relate to abuse that occurred more than 30 years ago. As someone close to Scouting, you know the safety of children in our programs is the BSA's absolute top priority and that one instance of abuse is one too many. That's precisely why over many years we've developed some of the strongest expert-informed youth protection policies found in any youth-serving organization.

From mandatory youth protection training and background checks for all volunteers and staff, to policies that prohibit one-on-one interaction between youth and adults and require that any suspected abuse is reported to law enforcement, our volunteers and employees take youth protection extremely seriously and do their part to help keep kids safe. You can read more about the BSA's multi-layered safeguards and our efforts to be part of the broader solution to child abuse at www.scouting.org/youth-safety. In fact, this is a resource that you can share with friends and family who are interested in understanding what the BSA is doing to keep kids safe.
Scouting continues. Scouting programs will continue to serve youth, families and local communities throughout this process and for many years to come. Just last year, communities across the country benefited from more than 13 million Scouting service hours, and young men and women earned more than 1.7 million merit badges that represent skills that will help them succeed throughout their lives. Studies prove and parents agree that Scouting helps young people become more kind, helpful and prepared for life, and as long as those values remain important to our society, Scouting will continue to be invaluable to our nation's youth.
Local councils have not filed for bankruptcy. Local councils – which provide programming, financial, facility and administrative support to Scouting units in their communities – are legally separate, distinct and financially independent from the national organization.
We know you will likely have questions about these issues and things you will see in the news. We have posted information about our restructuring on a dedicated website,
www.BSArestructuring.org
.
This site includes a helpful Resources page, where you will find a short video explaining what Chapter 11 means for Scouting, as well as a FAQ and a reference document that will help you discuss this announcement with youth in our programs. The site also includes a Milestones page, which will be your best source for the latest updates throughout this process.
If these resources don't answer your questions, please feel free to reach out to us through Member Care at 972-580-2489 or MyScouting@Scouting.org. We will do everything we can to provide helpful, transparent responses and ensure your Scouting experience continues to be a great one.
Yours in Scouting,
Jim Turley
National Chair
Ellie Morrison
National Commissioner
Roger Mosby
President & CEO
Posted: 7:33 02-18-2020 1363
---
Previous Posts
Site Disclosure Statement
---
Comments:
Feb 25, 2023 - Joe Patterson
Just out of curiosity, are the Rockwell paintings on exhibit anywhere
---
Mar 16, 2023 - Adam John
Great question Joe! Have you checked out the Norman Rockwell Museum in Stockbridge MA? (nrm.org) There is also the Rockwell Museum in Corning NY. (rockwellmuseum.org) I believe the latter has more art. Hope this helps!
---
---
- Ask a Question - Add Content
Just for Fun: Socializing merit badge





---
This site is not officially associated with the Boy Scouts of America


Find more Scouting Resources at www.BoyScoutTrail.com
Follow Me, Scouts