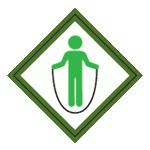 Webelos Stronger Faster Higher Adventure
Adventure Goal: Improve physical fitness and good health.
Adventure Requirements:

Complete Requirements 1-3 and at least one other.
Understand and explain why you should warm up before exercising and cool down afterward. Demonstrate the proper way to warm up and cool down.
Do these activities and record your results: 20 yard dash, vertical jump, lifting a 5 pound weight, push-ups, curls, jumping rope.
Make an exercise plan that includes at least three physical activities. Carry out your plan for 30 days, and write down your progress each week.
Try a new sport that you have never tried before.
With your den, prepare a fitness course or series of games that includes jumping, avoiding obstacles, weight lifting, and running. Time yourself going through the course, and try to improve your time over a two week period.
With adult guidance, help younger Scouts by leading them in a fitness game or games.
Ideas for Adventure Requirements:

If scouts in your den tend toward a sedentary lifestyle, it is very easy to strain muscles when beginning physical activities. Some may very well feel that warming up is silly, but it is a good habit to form. More information can be read from American Heart Association.
Remember that Scouting is more of a competition with yourself to improve, rather than to do better than someone else. A quick reminder that scouts are Loyal, Friendly, Kind, Cheerful, and Brave might be useful - and how that means trying things we're not expert at and supporting our denmates in their attempts. See the descriptions in the Webelos Handbook for doing each exercise.
You can print the Fitness Chart for each scout. Use exercises from requirement #2, or write in other exercises.
A few ideas for the obstacle course: Races, Exercises, Silly Olympics, or 3-Step Race. Scouts can improve their times by practicing the muscle activities at home, without needing the obstacle course.
This is a great opportunity to practice leadership skills. Discussing safety, encouraging others, and fair play beforehand is helpful. Plan this well in advance of the Pack meeting with the other Pack leaders, or invite a Bear or Wolf den to your den meeting to try the games.
Ultimate frisbee is a great sport that continues to gain momentum and costs nothing to play.
Den Meeting Ideas for Stronger Faster Higher Adventure:

---
Comments:
Jun 11, 2023 - Fred Provoncha
Do the 30 days in Requirement 3 of Stronger, Faster, Higher have to be consecutive? Of course I think ideally they should be, but what if the Scout misses a day? Does he have to start all over again?
---
Jun 12, 2023 - Scouter Paul
@Fred - Cub Scouts uses the "Do Your Best" philosophy, so that would be ok. The scout's plan might include a couple of 'skip days' that could be used anywhere in the 30 days, planning for just such an occasion. Or, the scout might want to extend the 30 days by the number of days missed. Or, they might prefer to start over. Whatever the scout feels is their best effort.
---
---
- Ask a Question - Add Content
Just for Fun: Socializing merit badge





---
This site is not officially associated with the Boy Scouts of America


Find more Scouting Resources at www.BoyScoutTrail.com
Follow Me, Scouts