Scoutmaster Musings

Archives:
2022
2021
2020
2019
2018
2017
2016
2015
2014
2013
2012
2011
2010
2009
2008
2007
2006
2005
Appropriate Art?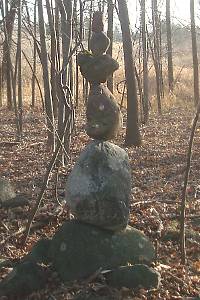 After my hike last weekend, I'm pondering something. I found this, and a few more, balancing rock formations that someone created along the trail. I think they look pretty neat and I've seen them done as
art
before.
The quandry comes from the location of this person's efforts. It is in a state park and along a well-trafficked trail. Most people come here, I believe, to walk through the woods and enjoy the natural beauty around them. None are expecting man-made artistic structures along the trail.
So my perceived dilemma is, should I admire the rock pile and leave it as I continue my hike, or should I take off each rock and toss it out into the woods?
The first response recognizes the efforts of the person and leaves the art for others to enjoy because it really does look pretty cool. The second puts more importance on the natural beauty and feeling that the wilds are unspoiled, and also supporting the minimal impact and leave no trace ethics.
If I were to encounter this in a wild area, my choice would easily be made to dismantle the structure. In my view, the wilds should remain as natural and wild as possible and man-made impacts should be removed.
But, this was along a frontcountry trail where folks hike for an hour or so and there are rest benches, toilets, water fountains, and picnic tables in the area. For all I know, it's possible this art was approved by the land manager to make the trail more interesting. After all, lots of other people have walked past them and left them there.
In this case, I left them alone but have sent an email to the Department of Natural Resources contact to ask what they would prefer to have done with them.
Whatever the response (I'll let you know), I do hope we all agree that it is not our place to create artistic sculptures, structures, drawings, or whatnot out in the public wild places. Minimizing our impact and allowing future visitors to experience as wild and natural a place as we enjoyed is our duty.
Would you have taken the rock piles apart or left them for others to enjoy?
Scout On
Posted: 22:18 11-30-2011 712
---
First Steps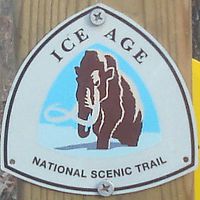 After just researching, planning, and training for the past few months, I finally set foot on one of the national scenic trails I plan to thru-hike in 2012. Over Thanksgiving break, I got a taste of the trail by hiking the Kewaskum and West Bend segments of the Ice Age Trail plus the connecting routes between them. It was just 14 miles with on-and-off drizzle but was a wonderful hike!
The volunteers that maintain those segments have done a great job. Along the way, there were four or five placards that described the terrain from the glaciers, the people that created the trail, and other interesting tidbits. If the rest of the trail has such kiosks, and well-marked routes, it will be a wonderful trek.
I did notice that someone had vandalized some of the trail signage - what a shameful way to waste money, effort, and time put out by volunteers to improve life for all of us.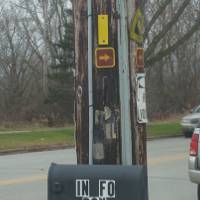 Not all the trail blazes are easy to find, though.
Walking down a sidewalk in West Bend, I could have easily walked right past this pole if not expecting the cut-off into the forest. I found that I got tuned into keeping an eye out for yellow blazes and had no problems.
I stopped at a gas station for a Snickers bar and almost asked the clerk if he knew about the Ice Age Trail just to see. I can see I'll have to work on being a bit more outgoing with strangers to get the most fun out of these hikes. Just a bit over 3 months before I start for real.
Scout On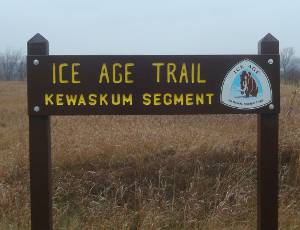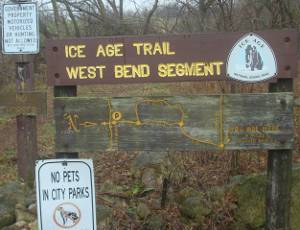 Posted: 13:42 11-29-2011 711
---
Team Activities
When the dreary drudgery of indoor scout meetings during the long winter months start getting to your scouts, remember that poor weather means a perfect opportunity to develop teamwork. Sure, it's discussed at Troop Leader Training and the Patrol Leader Council agrees that it's important, but how about incorporating some team development activities into those gatherings when it's too dark, too cold, and too wet to enjoy being outside?
They don't have to be complicated to be fun. Here's a few that the SPL might want to give a shot:
Scout On
Posted: 13:50 11-22-2011 709
---
Deer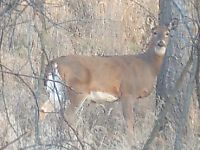 I was planning on hiking 6 miles this morning, but when I hit 3 miles it just seemed like I needed to go further. I'm glad I did.
Click the image to see a short video of the three deer I saw, plus one. They were beautiful. And, they were at about 7 miles of my 11-mile hike.
This week I've been trying to identify at least 10 animals on each hike. Today, I got eight - deer, crow, goose, duck, red squirrel, grey squirrel, cardinal, robin. We've had exceptionally nice weather since summer, but that's due to end tomorrow with rain/snow right around 35° all day. But then we're right back to sun for another week.
So, it's not too late to invite some folks out on a hike and stretch your legs.
Scout On
Posted: 15:48 11-18-2011 708
---
OA in Space
I think this one image is probably the best promotion of Order of the Arrow and Boy Scouts to come around in a loooong time. Click the image to see it full size or
View Gallery
on facebook.
Mike Fossum ( Meechgalane Sakima ) took his Vigil OA sash into space this summer aboard the space station! What a great symbol of a scout accomplishing great things by setting goals and perservering.
Maybe you can use this image in a scoutmaster minute for your troop, or to help explain what the Order of the Arrow is about.
Read Mike's story in the
OA Natl Bulletin
.
By the way, in the full size picture, you can see a signature on the sash - it's E. Urner Goodman's, a founder of the OA. Pretty cool.
Scout On
Posted: 20:08 11-17-2011 707
---
Rodent Rescue
I personally appreciate this service project by scouts of Troop 747 out of Tucson, Arizona. The project involved making and installing
wildlife escape ramps
in livestock water troughs. This lets rodents climb out rather than drowning and rotting in the water.
This is obviously better for livestock using the trough, but hikers that refill their water bottles benefit as well. There's a good chance I might need to use one of these water troughs while I'm hiking the Arizona Trail next spring, so "Thanks, Scouts!"
See
this page
.
Scout On
Posted: 12:25 11-16-2011 706
---
Camping Gear Winner
Back at the beginning of October, I posted about a
contest
being sponsored by the BSA to promote the
Be A Scout
website where interested parents can find a local pack, troop, or crew. The 1 minute opening video on the site is waaay cool with lots of action and some neat stop-motion scenes - you should check it. There's short videos in each of the sections as well.
I've been told that Kevin S. has been chosen as a winner for his tweet about the post. I'd like to thank the many visitors that commented on the post and tweeted about it, and congratulate Kevin.
Scout On
Posted: 12:58 11-14-2011 705
---
Training Weekend
Spent yesterday and today presenting Red Cross CPR/AED and Wilderness First Aid training to scouters getting ready for Northern Tier, Sea Base, Philmont, and troop-planned treks over the coming year. One participant was a Cubmaster preparing for pack camping which I thought was pretty cool. It was a good group of folks, but a long weekend.
I enjoy hearing what plans various troops have for their outings. It's always exciting to talk with folks looking forward to their first high adventure trip and help them prepare. November is the month to enter the Philmont lottery for 2013, so I hope your troop is taking care of that now - and don't wait until May to think about required training.
Scout On
Posted: 22:14 11-13-2011 704
---
11:11:11 11-11-11
Where were you at 11 minutes and 11 seconds after 11:00am on November 11, 2011?
My son (who had the day off from school) was playing xBox and I was right here preparing for Wilderness First Aid training tomorrow.
Fortunately, he hollered at me in time so I could open the PC time and save the historic occasion to share with the world.
So, did you miss it or not? Those of you west of Central Time still have an opportunity to enjoy the excitement!
12:12:12 12-12-12 will be here in a year, so get ready! It will be the last such date for quite awhile, and maybe forever if you consider Dec. 21, 2012. :-)
Scout On
Posted: 11:46 11-11-2011 702
---
Eagle Project Done?
I think my son finished his eagle service project yesterday, but I'm not sure. He's out helping another eagle candidate this morning, so I'll have to ask him when he gets home.
All I know is he put a bunch of tools in the Honda Odyssey (official vehicle of scout troops) yesterday and was gone for a couple hours. He was supposed to finish it last weekend, but he said a delivery of rock did not show up so he had to set up this extra day to finish.
I'm happy to report that my part in this project was to hike to his project site one day to delivery the camera to him. He also let me hold a pipe straight while cement was poured around it.
Other than that, I was out of the picture. I didn't see, review, or edit his project plan. I gave no advice, suggestions, or recommendations on how he might do it better, or how
I
would have done it. I didn't meet the person he's doing the project for. I don't know how much it cost, or how many hours it took.
Can you tell I'm proud of myself? :-)
Scout On
Troop Kit
- let Scouts lead
Posted: 10:21 11-05-2011 701
---
Be One With the Wild
Well, here's a
wild
one for you. Click the image for a much larger version.
I read a rumor this morning that these photos are part of a new Boy Scouts campaign created by Ogilvy & Mather, called "Be One with the Wild".
What the heck, I'll help spread the rumor.
There's a Wolf, Bear, Webelos, and Boy Scout. Their uniforms all look good except all the collar bling on the Boy Scout and his nametag of
R. Manderfield
which I've not seen on a uniform before.
I noticed the council patches on the uniforms are from the Atlanta Area council, so I went and searched around. There's
this page
on their council website that has more info about their recruiting campaign.
So, it's a council campaign that was used this fall - rumor solved, I guess. And, it looks like that council has some fun folks involved, if just a little on the
interesting
side.
Scout On
Posted: 11:47 11-04-2011 699
---
Crisp Hiking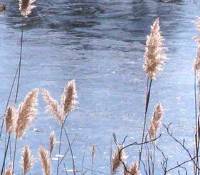 Yesterday's 8-mile hike was mostly just covering miles. It was dreary, even a few drizzles of rain. Not much to see.
But, when I stepped outside today I was greeted by Orion, Cassiopeia, the Pleiades, Ursa Major, and Polaris. A perfectly bright, crystal clear night sky making it easy for a quick review of the constellations and direction finding, even though it was just a bit before 7:00am. That will all change this weekend when the clocks get kicked back an hour - Don't Forget!!!
I was also greeted with frost since it was 30°F and it didn't take long for my knees and rear to get cold. Just overnight the small pond along the trail froze completely across. It will melt today, but it's certainly a sign of what's coming.
Tomorrow, I'll have to switch to warmer pants from my zip-off nylons. If you are interested in forecast and historic weather info for your location, I've found that
wunderground.com
is a good site. If you use a different site, let me know.
Scout On
Posted: 9:57 11-03-2011 698
---
Previous Posts
Site Disclosure Statement

---
Contest - Ask a Question - Add Content
Just for Fun: Socializing merit badge





---
This site is not officially associated with the Boy Scouts of America


Find more Scouting Resources at www.BoyScoutTrail.com
Follow Me, Scouts