Scoutmaster Musings

Archives:
2022
2021
2020
2019
2018
2017
2016 -
Dec
Nov
Oct
Sep
Aug
Jul
Jun
Mar
Feb
2015
2014
2013
2012
2011
2010
2009
2008
2007
2006
2005
Day 6 - Out of the Mountains
A short, brisk hike down the mountain and we were back in civilization, taking showers in Buffalo, WY. We had the afternoon to explore the small town that just happened to be holding its "Crazy Days" event - basically a sidewalk saddle. My highlight was meeting this real, live, Wyoming cowboy selling lemonade with his little brother! It was a super week with great weather having storms only at night, fun people, plenty of wildlife, and majestic views.
Posted: 7:19 07-31-2016 1290
---
Day 5 - Seven Brothers
We spent the morning fishing after another night of intense lightning and rain. The fish were off and we caught very few but the scenery was terrific. We packed up in the afternoon and hiked out to Soldier Park for our last night in the wild. It was a nice hike since it was almost all downhill. We left the official wilderness after our water crossing and then camped at a very overused spot. It was a strong contrast with the more beautiful wilderness settings.
Posted: 16:57 07-28-2016 1289
---
Day 4 - Over Ant Hill
Our intrepid crew hiked from Elk Lake over a 10600 foot saddle behind Ant Hill then across a creek and up a hillside to the Seven Brothers area. This was our longest hiking day with the most elevation. On the trail, we passed both of our other groups going the other direction. Our new home is a VERY impacted site since this area gets heavy use. We had horrendous lightning last night.
Posted: 16:53 07-27-2016 1288
---
Day 3 - Rest Day
It managed to drop below freezing last night and get frost again. We're camping at the same spot tonight so there was no required hiking. One group hiked up a ridge for the views and I hiked to another valley for done fishing. We hiked 1.5 miles to a mountain reservoir full of trout. We lost count of the fish we caught on flies and spinners over the 6 hours we fished. Mostly brook trout, but a few rainbows and cutthroat, too. The group decided on an early dinner since storm clouds were building and rolling past. We never did get any rain, but it was nice to eat early. Tonight, the mosquitos were pretty bad. We saw a fisher exploring our camp and a moose across the lake.
Posted: 6:50 07-26-2016 1287
---
Day 2 - Elk Lake
Our second day was great. I saw a Couple elk near our campsite when I woke up. But before that I enjoyed a wonderful view of the big dipper over the mountains when I had to get up at 1:30am. We got on the trail at 9:30 and had a few miles of pretty tough uphill to a beautiful lunch spot on three tip of a pass. From there, it was a rocky but easy walk down to Elk Lake whee we eventually found a decent spot to camp. We saw the mouse on the lake and a herd of elk run by. The rocky mountains make for a wonderful backdrop across the lake. Mac and cheese for dinner, but the chili ramen was spicy. There was frost on the grass this morning but tonight seems much warmer even though we are 1000 feet higher at 9800 feet.
Posted: 17:18 07-25-2016 1285
---
Day 1 - Triangle Park
Our first day of hiking and camping was a great opportunity to get a rhythm going. We only covered about 3.5 miles from Hunter trailhead to Triangle Park, but we had a couple water crossings, tough trail, and dust. The crew found a very nice campsite secluded just in the trees with a nice view across the meadow. It's really hard to see that we are here. Our first dinner and clean up could have gone better but it tasted great and Mrs. Dude and I did the dishes. That's Mrs. Dude crossing the stream, too. Just a gorgeous day with a few puffy clouds, nice breeze, no humidity, and few mosquitoes this evening. A couple guys fished in a tiny creek. One guy helped fix my fly pole. :-) Didn't see any animals except horse. Really to bed and the temp is dropping so we should sleep well.
Posted: 16:50 07-24-2016 1283
---
Into The Mountains
Heading into the mountains of Wyoming for a week of backpacking this afternoon. This is our campsite in Buffalo last night with the Bighorns in the background. A forest fire on the west side made us change route but weather should be great, so it's all good.
Posted: 7:08 07-24-2016 1282
---
C 2 C - By Bike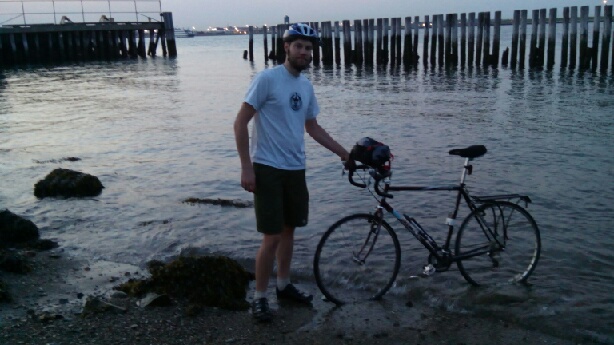 Well, tomorrow his wheel hits the Pacific!
My Eagle Scout son completes his Atlantic to Pacific solo bicycle ride from Boston, MA to Anacortes, WA. It has been fun following his progress from sea to sea, covering over 3800 miles, on his blog at
BikingDude.com
This is his starting photo and I look forward to seeing its twin posted soon.
I now understand a bit more how family back home feel when I'm out hiking for a month. It was a bit stressing when he didn't blog a few days after getting used to seeing his report each day. We were helpless to assist when he had mechanical problems. I could only imagine how much work it took to climb mountain passes, how hot it was across the prairie, and how close traffic came on narrow shoulders. It's a lot easier being the one out there doing the thing than it is being home.
The most enjoyable part for me was to hear how he met many friendly, helpful people just as I often do on my long hikes. A long excursion makes the world a bit smaller and shows that there is certainly a lot more good out there than we usually hear about.
He still has more road to ride. He plans to bike down to San Francisco to visit friends and then see what's next. You'll have to check out his blog to see what happens.
My next (much smaller) adventure starts tomorrow. I'll be leading a group backpacking in the Cloud Peak Wilderness of Wyoming for just a week. It is forecast to be a super week with great weather, fishing, hiking, mountains, wildlife, and as a special treat - my wife will be on the trek. She's not been backpacking in many years, so my fingers are crossed that she'll catch the bug to go on more adventures.
Posted: 21:40 07-22-2016 1281
---
Biking Dude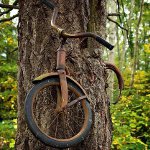 Besides doing some morning hikes in preparation for leading a week-long trek in the Wyoming wilderness in a couple weeks, I've been living vicariously through my oldest son's bicycle trip across the country. He has my Spot device to track his progress, and I created a website for him to blog about his travels.
If you'd like to check in on an Eagle Scout riding from the Atlantic to Pacific oceans, just check out
BikingDude.com
and leave him a comment of encouragement. Today, he's halfway through Montana, having started in Boston!
Posted: 21:35 07-09-2016 1280
---
Previous Posts
Site Disclosure Statement

---
Contest - Ask a Question - Add Content
Just for Fun: Socializing merit badge





---
This site is not officially associated with the Boy Scouts of America


Find more Scouting Resources at www.BoyScoutTrail.com
Follow Me, Scouts