C 2 C - By Bike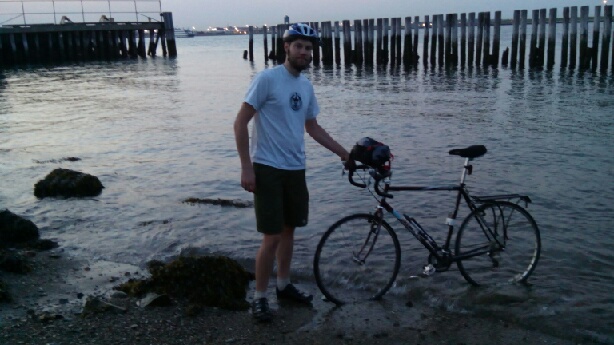 Well, tomorrow his wheel hits the Pacific!
My Eagle Scout son completes his Atlantic to Pacific solo bicycle ride from Boston, MA to Anacortes, WA. It has been fun following his progress from sea to sea, covering over 3800 miles, on his blog at
BikingDude.com
This is his starting photo and I look forward to seeing its twin posted soon.
I now understand a bit more how family back home feel when I'm out hiking for a month. It was a bit stressing when he didn't blog a few days after getting used to seeing his report each day. We were helpless to assist when he had mechanical problems. I could only imagine how much work it took to climb mountain passes, how hot it was across the prairie, and how close traffic came on narrow shoulders. It's a lot easier being the one out there doing the thing than it is being home.
The most enjoyable part for me was to hear how he met many friendly, helpful people just as I often do on my long hikes. A long excursion makes the world a bit smaller and shows that there is certainly a lot more good out there than we usually hear about.
He still has more road to ride. He plans to bike down to San Francisco to visit friends and then see what's next. You'll have to check out his blog to see what happens.
My next (much smaller) adventure starts tomorrow. I'll be leading a group backpacking in the Cloud Peak Wilderness of Wyoming for just a week. It is forecast to be a super week with great weather, fishing, hiking, mountains, wildlife, and as a special treat - my wife will be on the trek. She's not been backpacking in many years, so my fingers are crossed that she'll catch the bug to go on more adventures.
Posted: 21:40 07-22-2016 1281

---
Contest - Ask a Question - Add Content





---
This site is not officially associated with the Boy Scouts of America


Find more Scouting Resources at www.BoyScoutTrail.com
Follow Me, Scouts