Volcano II
When camping at Boy Scout camps, every campsite has a built-in fire ring, just like many state and national parks. These are great for evening campfires and for a single group to build a fire for cooking. There are often many patrols that need to cook and they can not all crowd around a single fire. It would sure be great for them to each build their own cook fire in separate areas, but just lighting fires all over the woods isn't such a good idea. We need to have a way for each patrol to cook when and where they want.
The Volcano II Stove is a collapsible fire pit that is vented to promote hot, full burning of fuel. It can be set up practically anywhere to safely cook our camping meals. It collapses to 5 inches and can be carried and stored in an included black bag with handles. This helps keep everything else clean even if there is some ash left in the stove.
Depending on the situation, wood, briquettes, or propane can be used to fuel the Volcano II. There is an optional propane adapter that can be added. We found that wood burns just fine and creates nice, hot coals. Briquettes tend to have a longer, more even heat and require less replenishing during the cook. The stove uses less fuel than a completely open fire since the walls contain the heat, directing it to the cooking pot or grill.
Grilling food, such as hamburgers, is just like using a grill at home. It's fast and easy with just a quick scrub of the grill for clean-up. Any open fire cooking, such as hotdogs, s'mores, or hobo meals can be done directly over the coals with no grill.
If dutch oven cooking is required, just remove the grill and place a dutch oven over the coals. Up to 12 inch dutch ovens will work. This set up can be used for bottom-heat dutch oven cooking, such as frying, stewing, or simmering. For cooking breads which require most heat from coals placed on top of the dutch oven, I would recommend the actual cooking be done outside the Volcano II. But, the Volcano II can be used for creating coals and scooping them out as needed.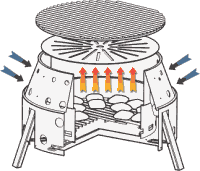 The Volcano II is designed to be a portable, collapsible, adjustable cooking device. Cool air is drawn in through vents which promotes complete fuel burning and reduced external temperatures. The stove can be placed on sturdy, stable surfaces such as ground, rock, wooden boards, or sand. We used it on packed snow, but it will melt in over time and refreeze if left there. The vents allow airflow to be restricted somewhat so the internal heat can be regulated. Once cooking is finished and the stove is cooled, ashes are dumped out, it is collapsed, and stored in its carrying bag.
This camping accessory is a great addition to our troop equipment for scouts that want to do open fire cooking for fun or rank advancement. It makes the fire easy to light since it is in a wind-resistant enclosed space, keeps the fire contained away from flammable materials, and reduces fuel use. Scouts can now have an open fire pretty much any place and any time they want.
---
- Ask a Question - Add Content
Just for Fun: Socializing merit badge





---
This site is not officially associated with the Boy Scouts of America


Find more Scouting Resources at www.BoyScoutTrail.com
Follow Me, Scouts