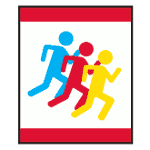 Wolf Running With the Pack Adventure
Adventure Goal: Promote fitness and health.
Adventure Requirements:
Complete the following Requirements.

Play catch with someone in your den or family who is standing 5 steps away from you. Play until you can throw and catch successfully at this distance. Take a step back and see if you can improve your throwing and catching skills.
Practice balancing as you walk forward, backward, and sideways.
Practice flexibility and balance by doing a front roll, a back roll, and a frog stand.
Play a sport or game with your den or family, and show good sportsmanship.
Do at least two of the following: frog leap, inchworm walk, kangaroo hop, or crab walk.
Demonstrate what it means to eat a balanced diet by helping to plan a healthy menu for a meal for your den or family. Make a shopping list of the food used to prepare the meal.
Ideas for Adventure Requirements:

This entire adventure can be done in a single den meeting. Try a selection of different items to play catch - softball, nerfball, ping pong ball, bean bag, frisbee, football, water baloon, egg, ...
Lay a 2x4 board on the ground and have scouts walk from one end to the other, frontward, backward, and sideways. Then, stand it on its narrow side and support it between your feet at both ends so it does not fall over. Have scouts walk it again.
Remember to warm up and loosen muscles before doing these movements, and do them on a soft surface such as carpet or grass.
Let the den decide which game they'd like to play, from a collection you offer.
Try all four movements and have the scouts decide on the den favorite.
Do this at home.
Den Meeting Ideas for Running With the Pack Adventure:

---
- Ask a Question - Add Content
Just for Fun: Socializing merit badge





---
This site is not officially associated with the Boy Scouts of America


Find more Scouting Resources at www.BoyScoutTrail.com
Follow Me, Scouts