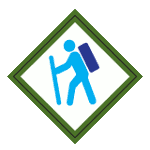 Webelos Walkabout Adventure
Adventure Goal: Expand hiking skills to include planning hikes, and extending the distance hiked.
Adventure Requirements:

Complete Requirements 1-4 and at least one other.
Plan a hike or outdoor activity.
Assemble a first aid kit suitable for your hike or activity.
Recite the Outdoor Code and the Leave No Trace Principles for Kids from memory. Talk about how you can demonstrate them on your Webelos adventures.
With your Webelos den or with a family member, hike 3 miles. Before your hike, plan and prepare a nutritious lunch or snack. Enjoy it on your hike, and clean up afterward.
Describe and identify from photos any poisonous plants and dangerous animals and insects you might encounter on your hike or activity.
Perform one of the following leadership roles during your hike: trail leader, first aid leader, or lunch or snack leader.
Ideas for Adventure Requirements:

Use this Hiking Plan form
Sample first aid kit
Besides poison ivy and poison oak, other plants can irritate, scratch, and cause rashes. Some to look for include: wild parsnip, stinging nettle, cacti, raspberry, rose, coarse grass. This is a good way to encourage staying on the trail to reduce chances of getting too close to these plants, insects, and animals.
Non-refrigerated food and drink works best. On longer hikes, snacking often at breaks keeps a body better fueled than stopping for a big, long lunch break. Be careful when walking and eating so you don't choke and don't drop bits of food.
Visit Leave No Trace Dude for ways to teach LNT.
Look for examples of poisonous plants, ways to follow LNT Principles, and opportunities to read maps and use a compass while on the hike.
Contact the manager of the location of your hike beforehand to find out what project your den can do. There's often small clean-ups needed, such as overgorwn brush, down trees, or spreading bark chips. Don't modify the trail or nature area without first checking - that tree across the trail might be part of a reroute.
If you have a large den, a scout does not need to be navigator or first-aid person for the entire hike, but make sure they each have opportunities to make some decisions and practice leading their den. Only one scout at a time should be leading, not co-leaders.
Den Meeting Ideas for Walkabout Adventure:

---
Comments:
Oct 15, 2017 - Jacob
This was really helpful to me. I'm a boy scout and working on Den Chief
---
---
- Ask a Question - Add Content
Just for Fun: Socializing merit badge





---
This site is not officially associated with the Boy Scouts of America


Find more Scouting Resources at www.BoyScoutTrail.com
Follow Me, Scouts