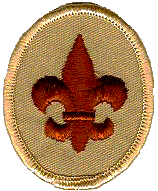 Scout Map Test
There are 11 questions.
Select the best answers and see your score at the end.
---
1. What is the symbol for a primary highway?





2. What does this map symbol represent?
Different types of crossroads.
Churches and graveyards.
Types of overpasses and underpasses.
A railroad crossing.
3. To represent foot trail crossing a bridge over water, which map symbol would you use?





4. What does this map symbol represent?
An orchard.
A forest.
Scrub brush.
A lawn or trimmed grass.

5. What does this map symbol represent?
Factories and cement mixers.
These are types of highway markers.
church or a cemetery.
Cave, tunnel, or mine entrance.
6. On a hike, which map symbols represent a water source?
Other than major rivers, water sources would not appear on most maps.


Any blue area with a small "p" for potable next to it.
7. Which map symbol would indicate a place where two trains would pass?




8. Where would you look to find a nice waterfall to take pictures of on your hike?





9. What do these map symbols represent?
A good place to camp and eat.
These are used for a scenic overlook that would be a good place to stop for pictures.
A place where trails cross, or a shortcut.
This represents downhill sections of a trail.

10. In the meaning of map colors, red stands for what?
Water, such as lakes, streams, springs, marchs, and water tanks.
Highways or boundaries.
Contour lines and standard elevations.
Absence of major vegetation.


11. In the meaning of map colors, black stands for what?
Man-made structures and place names (buildings, roads, trails, bridges, railroads).
Supplementary contour lines and levees.
Only used to clearly outline water areas.
Landmark lines, telephone lines, power transmission lines, and fences.

Scouts need to use a map and compass on high adventure treks. Orienteering is a necessary skill to survive in wilderness environments. There are many different types of maps with standard or custom legends of symbols, knowing how to read a map makes all the difference in whether it is useful or just tinder.
---
Comments:
Apr 24, 2014 - Tanner Turner
awesome way to learn maps
---
Apr 25, 2014 - Carol Gillet
I think these assigments are a really good source for kids to learn about if they are struggling with their science work.
---
May 28, 2014 - Dan
This quiz is a very useful teaching/learning tool that can used to learn map reading skills. Thanks for the challenege and I will keep on practicing my map skills through this site.
---
Apr 20, 2015 - Thomas
I thought it was pretty easy. I am a star scout and was looking for a test to help with my board of review. Even thought I thought it was easy, I think that this will help a lot of younger scouts with ranking up. Thanks for the good test.
---
May 25, 2016 - Archie
As a holder of the HRH The queen and bear grylls' gold and platinum awards this was easy as ive done it before however i think it will help alot of people to improve heir map skills
---
Sep 13, 2022 - Steve McFarland
Is there a printable version of this test? If so please let me know where it is available. Thank You.
---
Sep 13, 2022 - Scouter Paul
@Steve - no, this is just an online test I created for fun.
---
---
- Ask a Question - Add Content
Just for Fun: Socializing merit badge





---
This site is not officially associated with the Boy Scouts of America


Find more Scouting Resources at www.BoyScoutTrail.com
Follow Me, Scouts