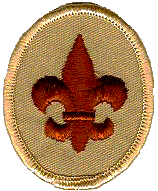 Rope Knots Test
There are 20 questions.
Select the best answer for each question.
---
Rope knots and a high knot tying skill level are very important in the outdoors when climbing, boating, or camping. If you can tie square knot and not tie a slip knot, that may be the difference between rescuing someone or not. Use this test to check your knowledge in knot tying and usage.
---
Comments:
May 10, 2021 - o-126381
i want to test my skills in knot tying as rope rescue responder
---
---
- Ask a Question - Add Content
Just for Fun: Socializing merit badge





---
This site is not officially associated with the Boy Scouts of America


Find more Scouting Resources at www.BoyScoutTrail.com
Follow Me, Scouts