Scoutmaster Musings

Archives:
2022
2021
2020
2019
2018
2017
2016 -
Dec
Nov
Oct
Sep
Aug
Jul
Jun
Mar
Feb
2015
2014
2013
2012
2011
2010
2009
2008
2007
2006
2005
YAEP
Y
et
A
nother
E
agle
P
roject was completed this past weekend in our community. This one was interesting, useful, and fun to help with.
Our elementary school just invested in an
outdoor classroom
this summer, spending tens of thousands of dollars on landscaping natural seating into a bowl-shaped area of the forest on the school property. This eagle project enhanced the usability of the area by designing, building, and installing four outdoor laboratory tables. The tables will be used by students for experiments about the environment, animal life, climate, and other nature studies topics.
The design is very sturdy and should hold up for many years of changing Minnesota seasons. The tables are set on two 4x4 posts sunk into the ground over 40 inches and rest at the correct height for small children. Each table is a box with hinged lid, creating a protect work area.
I took my orders from the Eagle candidate and spent my time digging holes with a post hole digger until he told me to stop. I think I did a pretty good job!
Another eagle project was done here earlier in the summer, also as part of this new outdoor classroom. It is the 'chalkboard' for the classroom - protected by small roof, locked protective plywood doors, and sturdy support structure.
I'm excited to see the new classroom in use this year. If you know of some Eagle candidates looking for projects, these outdoor classrooms are being set up in lots of schools now - might want to check locally. Or, I have many other ideas for
Eagle Scout service projects
.
Posted: 21:48 09-27-2016 1306
---
Ducttape and Paperclips
Making things from old junk stretches the imagination of a boy and gives him freedom to invent, explore, and learn. I had access to lots of old equipment, building supplies, and junk while growing up on USFS ranger stations. I made some awesome things, from forts to kites to bombs - even
electric motors
.
I believe my time spent watching MacGyver on TV helped, too. On that show, MacGyver could make anything with some ducttape, a couple paperclips, and no more than 10 minutes of effort. That's why I'm excited to hear a new version of the show is about to launch and BSA is holding a contest about it.
Some scout is going to win a trip to the MacGyver set in Atlanta. Ten others will win some backpack full of swag. But,
every scout
that enters will get a patch - not just a patch, but a
collector's edition patch
! OK, maybe you don't need YAP (Yet Another Patch) but, then again, maybe you do.
Anyway, a tip for 13+ year old scouts - when you
enter the sweepstakes
, choose the 13-17 age range to enter your postal address. If you're just 12, your parents need to get involved. I don't know why it's not open to younger scouts, but it's probably some legal internet child protection stuff.
Good luck, Scouts! Oh yeah, the sweepstakes ends October 30, so don't wait too long to enter.
Now, I just need to find 3 more paperclips and I'll get that hang glider finished!
Posted: 16:26 09-21-2016 1305
---
Dutch Oven Results
Hey, thanks to the folks that took a chance at guessing which state has ordered the most copies of my
signed dutch oven cookbook
. A winner has been chosen!
I know I said that figuring out the
books per capita
would be too much work, but I was wrong. I did figure that out, and the results were interesting.
First, here's a
map I made
of orders from every state. As you can see, the top states are:
California
Utah
Texas
Wisconsin
and the states with no orders are:
Delaware
Hawaii
Rhode Island
West Virginia
So, with that information, the winner was the only person that submitted a guess of California, and that was
Benjamin W.
- good job! I'll ship him his free cookbook as soon as he replies to my email. I'm pretty sure Benjamin went with the odds of California having the highest population, and that worked for him.
Four people guessed Utah which actually has the Dutch Oven as their official legislature-approved State Cooking Pot - imagine that! But, three people guessed Texas which has the Dutch Oven as their official State Cooking Implement - pretty much the same thing. (I never even knew states had official cooking items!) And, one person each guessed Hawaii and Rhode Island as having no orders.
I found it interesting to compare the raw numbers against the
per capita
numbers - that is, how many cookbook orders per million residents. I used the most recent census information online and came up with this:
| | | | |
| --- | --- | --- | --- |
| State | Pop | Raw | Capita |
| CA | 38.3 | 18 | .47 |
| UT | 2.9 | 16 | 5.52 |
| TX | 26.4 | 13 | .49 |
| WI | 5.7 | 12 | 2.11 |
| OR | 3.9 | 8 | 2.05 |
| MN | 5.4 | 8 | 1.48 |
| GA | 10.0 | 8 | .8 |
| IL | 12.9 | 7 | .54 |
| WA | 7.0 | 7 | 1.00 |
| PA | 12.8 | 7 | .55 |
If we used the Per Capita rating, the top states would be: Utah, Wisconsin, and Oregon, with California and Texas way down at 9 and 10.
So, from this detailed and scientific study (not), Utah really seems to be the Dutch Oven State. Being the curious type, I'll probably keep tracking cookbooks and post again in 6 months or a year. You can
help your state
rise in the standings. :-)
Posted: 20:24 09-11-2016 1304
---
Dutch Oven Guess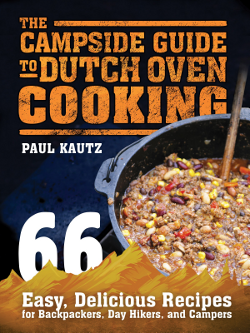 Do you cook with dutch ovens? Which state has the highest dutch oven usage for cooking? Do scouts in Alabama use dutch ovens more than scouts in Wyoming?
I've sent out 200 orders of my
signed dutch oven cookbook
this year, so I thought it would be fun to map the orders to states. This would give an idea of where dutch ovens are most popular. It would be too much work to figure out the orders per capita, so I'm just tracking the raw number of orders per state.
Before I post the map that shows which states are highest, and which states have no orders at all, I decided to give you all a chance to take a guess. I'll send a free signed copy of my cookbook to one person.
Enter your guess in the comments that says which state you think has the
MOST ORDERS
and one state that has
NO ORDERS
. There is one state with the most, but a few that have none. The winner will be the first to choose the top state and any of the bottom states. If no one does that, then it will be the first to choose the top state. If no one does that, then it will be whoever got closest to the top state. The guessing can commence
Now
and will end on Saturday.
My
signed dutch oven cookbook
could make an easy gift for that scout or volunteer that's looking for something new.
Posted: 16:06 09-05-2016 1303
---
Previous Posts
Site Disclosure Statement

---
Contest - Ask a Question - Add Content
Just for Fun: Socializing merit badge





---
This site is not officially associated with the Boy Scouts of America


Find more Scouting Resources at www.BoyScoutTrail.com
Follow Me, Scouts