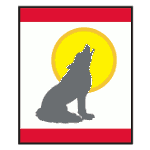 Wolf Howling at the Moon Adventure
Adventure Goal: Prepare Wolfs to organize a program for an audience and speak in front of a group.
Adventure Requirements:
Complete the following Requirements.

Show you can communicate in at least two different ways.
Work with your den or family to create an original skit.
Work together with your den or family to plan, prepare, and rehearse a campfire program to present at a den meeting or pack program.
Perform your role for a den meeting or pack program.
Ideas for Adventure Requirements:

Different ways to communicate include: facial expressions, writing, drawing, touching, sign language, speaking, braille, morse code
A short skit with simple lines usually works much better. Ensure every scout gets to be on stage.
Presenting to a small, friendly audience is a great way to get more comfortable performing. Consider inviting parents and siblings to arrive 15 minutes before the end of a regular den meeting just for the short program, so an extra meeting is not needed.
Communicate with other den leaders to ensure a variety of entertainment since they will all have similar requirements.
Den Meeting Ideas for Howling at the Moon Adventure:

---
- Ask a Question - Add Content
Just for Fun: Socializing merit badge





---
This site is not officially associated with the Boy Scouts of America


Find more Scouting Resources at www.BoyScoutTrail.com
Follow Me, Scouts