Bacon Spuds Recipe
This Recipe is meant for Scouts BSA.

Ingredients:
1 large potato per person
1/3 onion per person
2 or 3 slices bacon per person
salt and pepper
Notes:
Don't make more than 6 servings in one dutch oven or there will be too much to cook well.
Instructions:
Heat dutch oven on coals for
Frying
.
Slice the bacon into small pieces.
Peel and cut onions into 1/8ths and break them apart.
Peel spuds and slice into 1/4 inch thick slices.
Dump the bacon in the dutch oven and stir until about half cooked.
Spread the bacon evenly over the bottom of the dutch oven.
Spread the onions on the bacon.
Pour the spuds on the onions.
Shake quite a bit of salt and pepper on top.
Cover and
Bake
at 350 degrees for about 40 minutes. The bacon grease in the bottom should keep things from burning, but it's fine to check if you're getting antsy.
The spuds are done when they are tender to a fork.
Serves 6 to 8.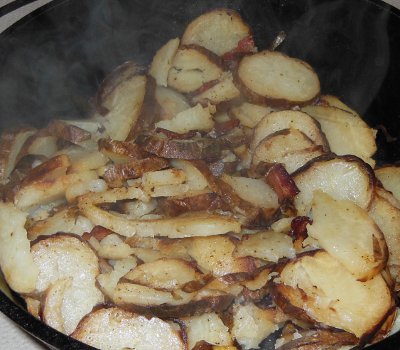 ---
All dutch oven recipes use a 12-inch dutch oven, unless specified. If you have a 10-inch dutch oven, use about 2/3 to 3/4 of the ingredient amounts but keep the temperature and time about the same.
If no temperature is listed, use 350 degrees.
See
Heat Settings
page for temperature and coal placement
for
Frying, Stewing, Roasting, Baking, and Simmering
.
Let me know how you enjoyed your Bacon Spuds!
Send a photo of your meal so I can add it here.
Get 66 favorite recipes in my dutch oven cookbook.
Click one to vote:
Did you like it?

Or not?

---
- Ask a Question - Add Content
Just for Fun: Socializing merit badge





---
This site is not officially associated with the Boy Scouts of America


Find more Scouting Resources at www.BoyScoutTrail.com
Follow Me, Scouts