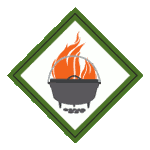 Webelos Cast Iron Chef Adventure
Adventure Goal: Learn good nutrition, safe cooking skills, and meal planning.
Adventure Requirements:

Complete at least Requirements 1 and 2 below.
Plan a menu for a balanced meal for your den or family. Determine the budget for the meal. If possible, shop for the items on your menu. Stay within your budget.
Prepare a balanced meal for your den or family. If possible, use one of these methods for preparation of part of the meal: camp stove, Dutch oven, box oven, solar oven, open campfire, or charcoal grill. Demonstrate an understanding of food safety practices while preparing the meal.
Use tinder, kindling, and fuel wood to demonstrate how to build a fire in an appropriate outdoor location. If circumstances permit and there is no local restriction on fires, show how to safely light the fire, under the supervision of an adult. After allowing the fire to burn safely, safely extinguish the flames with minimal impact to the fire site.
Ideas for Adventure Requirements:

There is very little information about fire safety in the Webelos handbook nor the Den Leader guide. Learn ALL about fires at Campfire Dude - including safety, different lays, and even colored flames.
Learn more about nutrition at: ChooseMyPlate.gov, Nutrition for Kids, Nutrition.gov, and Nutrition Data
Remember, lower shelves have lower prices at grocery stores.
Learn all about dutch oven cooking at Dutch Oven Dude.
Learn about camping food safety and cross-contamination.
Den Meeting Ideas for Cast Iron Chef Adventure:

---
Comments:
Jan 13, 2022 - Sharon Lois Shebar
When in the Webelos first year do you do the Cast Iron Chef adventure?
---
Jan 19, 2022 - Scouter Paul
@Sharon - Each adventure should be done when it best fits your program schedule. Since this includes outdoor cooking and fires, it is typically done when the weather is more comfortable, depending on your location.
---
---
- Ask a Question - Add Content
Just for Fun: Socializing merit badge





---
This site is not officially associated with the Boy Scouts of America


Find more Scouting Resources at www.BoyScoutTrail.com
Follow Me, Scouts