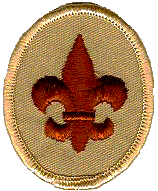 Scout Knots Test
There are 11 questions.
Select the best answer for each question.
---

1. What is the name of and use for this knot?
A Fisherman's Knot ties together wet or slippery ropes and after a hard pull, difficult to untie.
It's a Fisherman's Knot and is only used to tie fishing line together.
It's a Double-Overhand Knot use to temporarily hold line together where no strain is placed on the line.
It's a Sheep Shank and is used to shorten rope temporaily.

2. Identify this knot and what are it's advantages.
This is a Carrick Knot and is used in magic tricks since it unties with just a pull of the end pieces.
This Carrick Bend ties the ends of two large ropes together and when put under a big strain is not hard to untie.
The Knotting knot forms a tight "ball" and is used for climbing long ropes.
This decorative knot is only used in rope displays where the pattern is repeated multiple times.

3. Name this knot and what it is used for.
The Scouter's knot is a decorative knot used in poster borders or on knot-craft boards.
The Short Rope knot is used to shorten a piece of rope.
This is a Sheep Shank and is used to bypass a weak spot in a rope or to temporarily shorten the length of a rope.
This is the Sailor's Twist and is used whenever a ship is docked and tied to a pier.

4. The Square Knot is used for what purpose?
Use it to tie together the ends of two ropes of the same diameter.
It's just a symbolic knot used in Scouting and has no real purpose in pioneering.
It is just a decorative knot.
It is best used to tie dissimilar ropes, such as a nylon cord and manila rope.

5. The Draw Hitch may seem out of place on a list of knots used in pioneering because?
It's not a pioneering knot.
This hitch will not stay tied and comes apart without warning.
The loop can close on your hand without warning.
This quick release knot will untie with a quick pull on the correct rope lead.

6. What is this knot and what is one use for it?
A Climbing Loop is used to create resting foot holds during long climbs.
The Butterfly knot can be used to create a rope handle to lift heavy objects such as a log.
The Overhand Loop is used as a decoration in knot-craft displays.
The Double-Bight is used to tie horses or anchor canoes on shore.

7. This basic knot has what advantage?
The Bowline makes a moveable loop that will slip tightly around whatever it is attached to.
The Lariat loop can be thrown around the neck of an animal for easy capture.
The Bowline makes a fixed loop that will not slip and it is easy to untie.
The Weighted loop knot tied at the end of a coil of rope makes throwing the rope easier and more accurate.

8. What is the name of this basic Scout knot?
A Clove Hitch.
A Rolling Hitch.
A Spar knot.
The Hitch knot.

9. When should you use a Sheet Bend knot?
The Sheet Bend is a decorative knot and has no real use.
This knot is used to add a loop to a length of rope.
The Sheet Bend is used for tying the ends of a different size ropes together.
Use this knot tie a load on the back of a pack animal.

10. What is the best way to throw a rope to someone in distress?
Always throw the rope off to your side, like a Frisbee.
To throw the rope, swing the coils in your throwing hand in an arc, much like throwing a softball.
The rope coil should be thrown overhand in as high an arc as possible.
Never throw the rope. Feed the coils out slowly.

11. What is this knot and what is it used for?
A Swivel Hitch. Use it to drag fence posts to a pre-dug hole.
A Timber Hitch. Use it to pull down trees when you don't have a saw.
A Twist Knot. Used to quickly tie an animal to a post.
A Timber Hitch. Use it for dragging or hoisting a timber into position.
Scouts tie knots - its an important skill in the outdoors. Climbing knots are critical for safety and they're fun to know. Tying knots is also a fun way to spend time around a campfire. The overhand knot and square knot are the basics but there are hundreds of knots to learn and use. Knot tying is a requirement to advance in scouting, but it is also a valuable skill to have around home as well as outside or on the job. Answer these questions to see how good your knowledge is of some basic knots.
---
- Ask a Question - Add Content
Just for Fun: Socializing merit badge





---
This site is not officially associated with the Boy Scouts of America


Find more Scouting Resources at www.BoyScoutTrail.com
Follow Me, Scouts