Scoutmaster Musings

Archives:
2021
2020
2019
2018
2017
2016
2015 -
Dec
Nov
Oct
Sep
Aug
Jun
May
Apr
Mar
Feb
Jan
2014
2013
2012
2011
2010
2009
2008
2007
2006
2005
Jeff and Gracie
Check out my
current location
on the map. I ran into Jeff and Gracie the Amazing Hiking Dog on the trail. They were out doing trail maintenance and are Scouters from Charlottesville. We had a nice chat and walk, and he gave me a coke. Thanks for the snack and all your efforts for the trail community!
Posted: 11:28 08-28-2015 1188
---
Trail Journal
Entered the shenandoah park. No bears yet, but saw a huge deer. Coverage is getting worse so I may not be able to get posts out. Met a scout and his dad doing their 50-miler hike. They might make it to the shelter I'm staying tonight.
Posted: 9:02 08-25-2015 1182
---
Trail Journal
Oops - here's the pic.
Posted: 11:34 08-21-2015 1174
---
Trail Journal
Check out my
current location
on the map. Here's a nice view for lunch! I'm at Bears Den rock and hope to go 10 more miles this afternoon.
Posted: 11:33 08-21-2015 1173
---
Cub Scout Ideas
If you've been involved in the new Cub Scout program over the summer, I expect you've probably come up with some neat ideas for some of the adventures. If your Pack's program year starts in a couple weeks with the new school year, then you're getting ready to lead scouts through their adventures on the way to earning ranks.
There are hundreds of other den leaders out there that are also doing their best to make this scouting thing fun, interesting, and fulfilling to the scouts in their charge. They could really benefit from hearing what works for you, what games and activities you did to support an adventure, and any planning tips you have.
I'd like to hear what you've come up with, too! I'll add your ideas to each adventure page so others can use them. To encourage sharing of ideas, each month I'll give a $25 scout shop gift card to one person from those that have shared ideas as described on the
Share Ideas
page. The first card will be given in October since that's when I'll be getting back from my Appalachian Trail hike.
Share a useful idea, help some fellow volunteers, and maybe win a prize!
Scout On
Posted: 11:10 08-16-2015 1169
---
Wanna Sticker?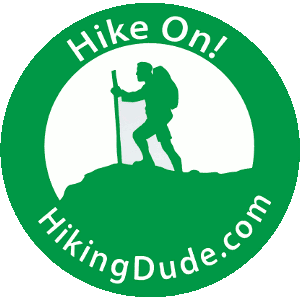 Do you know any scouts that like stickers? My son's water bottle is plastered with layers of stickers!
I have a bunch of these stickers to hand out to scouts I meet on my Appalachian Trail trek starting next week for those lucky ones that track me down.
If you'd like your own, and don't expect to run into me on the trail, you can still get some. The stickers are free, but there's postage, so you can click this
Buy Sticker
link and get two stickers for $1.
I'd love to get a Selfie of you and your sticker to add to my collection, like these pics.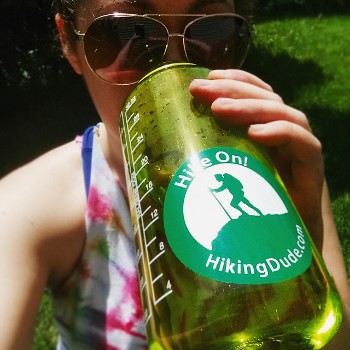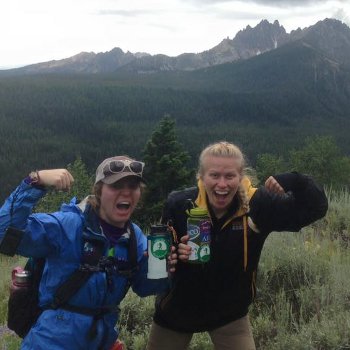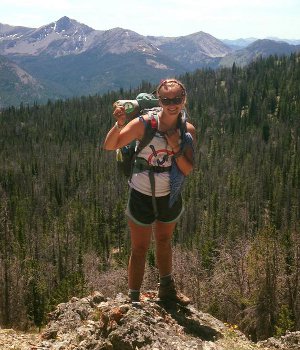 Scout On
Posted: 11:12 08-14-2015 1167
---
Wanna Hike?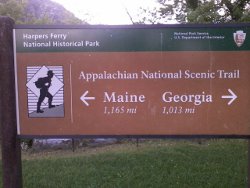 I'm off on my next hike in a week.
The plan is to hike from Harper's Ferry, WV south on the Appalachian Trail to the terminus on Springer Mountain, GA.
After checking out buses, planes, trains, and automobiles, I've decided to go by rail across the country. Bus was $90, plane was $100, and train was $150. So, why did I choose train?
First off, I will only ride a bus if it's the very last possible option. My Greyhound experience last year was enough to last a loooong time.
Even though the plane was less money, it got me to Washington, DC so I would need to take a commuter train to the trail, and it landed at night so I'd need to pay for a place to stay.
The train takes a bit more than a day and costs more than flying, but I step off the train right onto the trail, I can pack all my food and gear at home, it arrives at mid-day, and I stay on the ground. Plus, I've not been on a long train ride in many years so it will be more of an adventure.
I've looked over the AT Guidebook, set up resupply spots, figured out how far I'll hike each day and where I'll spend each night. Of course, as soon as I set foot on the trail, the plan goes out the window but it's a good exercise to get a general idea of what to expect. You can check out my rough
hiking schedule
if you're interested. If it all works out, I'll reach the end by Oct. 15, but I can take as long as I need.
If you know someone along the trail that would like to visit with a hiker, send me an email. I'd always prefer a home over a tent or shelter any night on the trail. And, I'm hoping some Scouts might be able to join me hiking for a couple hours or days.
Posted: 13:33 08-12-2015 1165
---
World Jambo
The 23rd
World Scout Jamboree
is under way right now in Japan. You can even see live streaming videos on
this page
(but it's 1:00am right now). The 24th will be held in 2019 at the Summit in West Virginia. Scouts from around the world will be visiting our country in just 4 years, and it will be a super opportunity to meet international brothers and sisters. Wouldn't it be cool to already be friends with some of them before they arrive?
The new Tiger
Family Stories adventure
, the Arrow of Light
Building a Better World adventure
, and the
Citizenship in the World merit badge
all have requirements to communicate with scouts in other places. A Webelos or Boy Scout getting to know scouts from other countries now just might meet some of them four years from now at the Jamboree!
Pen Pals are a great way to make international friends. There are over 600 units signed up in the
Scout Pen Pals
program here on Boy Scout Trail, including scouts from Canada, UK, and Australia. It's a great way to start a relationship between Scouting groups. It can take a little time to get things rolling, so now is a great time to start looking for Pen Pal units that will be ready to swap messages when your scouts are ready. Talking to scouts around the world is exciting and fun, not just to complete requirements.
Check it out today!
Posted: 10:43 08-03-2015 1160
---
Previous Posts
Site Disclosure Statement

---
Contest - Ask a Question - Add Content





---
This site is not officially associated with the Boy Scouts of America


Find more Scouting Resources at www.BoyScoutTrail.com
Follow Me, Scouts