Scoutmaster Musings

Archives:
2022
2021
2020
2019
2018
2017
2016
2015
2014
2013 -
Nov
Oct
Sep
Aug
Jul
Jun
May
Mar
Feb
Jan
2012
2011
2010
2009
2008
2007
2006
2005
Hundreds of Pen Pals
Since the Scouting Pen Pals feature was added to Boy Scout Trail last summer, there have been
218 units
sign up! Messages are flying back and forth from USA to UK, and Canada to Africa. There's lots of room for more scouts to find pen pals.
You can see the
most recent units
to sign up, and add your own unit. Dens around the country have been exchanging emails, letters, and packages with new friends around the world. It's an easy and safe way to get connected with other scouts, and learn more about scouting where they live.
Check out the
Scouting Pen Pals
area.
Scout On
Posted: 13:19 03-19-2013 959
---
Double Prizes
Hey, a funny thing happened to my on the way to celebrating the 1,000 Likes of Boy Scout Trail on Facebook.
I used random.org to select a number between 1 and 29 which is how many people commented on the
1,000 Likes
blog post. The lucky winner was Cory W. so I checked over on Facebook.com to see if he liked Boy Scout Trail. Yep, looks good. So, I sent him an email letting him know he had a week to reply with his address. Wait, wait, wait,... no reply.
I sent him another email saying another winner would be chosen. Then I went through the random number, find winner, check Facebook, send email.
Bingo! Right away, Melissa B. replied - at the same time I got an email from Cory including a message he had sent me a week ago with his mailing address!
Sometimes I just hate the Internet. :-(
So, the double prize winners of the 1,000 Likes on Facebook celebration are Cory W. from Ohio and Mellisa B. from Kentucky. Their $25 Scout Shop gift cards went out in the mail today.
Thanks for playing, using Boy Scout Trail, and letting others know about this resource.
I think we should try again at 2,000 Likes. The more people that use the site, the more fun things we can do, so please consider telling your online friends.
Scout On
PS: If you run into a lost email message out there from Cory to me, please send it on its way. It's out there somewhere!
Posted: 18:03 03-13-2013 958
---
Cub Scout Knife Use
A revision to the BSA Guide to Safe Scouting is out this month, with one very important clarification for Cub Scout dens.
Cubmasters and den leaders make note of this!
Tigers and Wolfs may not use knives during Scouting activities. Bear scouts and Webelos
are allowed
to use knives, but should be given proper and thorough training before receiving that privilege. The
Whittling Chip
is a good start for knife training.
So, if your Pack has been letting Tigers or Wolfs whittle away, it's time to stop. I'm sure many first and second grade boys you know can handle a knife just fine - I had my own when I was that age. But, while Scouting, follow the Scouting guidelines and keep everyone safe. Review
Age-appropriate Activities
on scouting.org for a chart of what's cool to do at each level of Scouting.
It's the unit leader's responsibility to know, understand, and follow the BSA safety guidelines. Give copies of the
BSA Commitment to Safety
to all your unit volunteers, get them trained, and enjoy Scouting.
Scout On
Posted: 6:29 03-12-2013 957
---
Fire Fails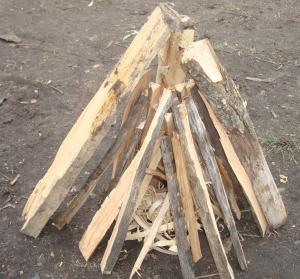 How does a Boy Scout make a fire with two sticks:
Make sure one is a match.
We are supposed to be good at many outdoor skills, one of which is fire starting. It is just a Scouting thing.
In reality, I have not met many scouts that can start a fire readily - in good weather, let alone rain or dampness. Even when training with Scouters, it is rare that one will volunteer to lay and light the fire, prefering to give someone else the opportunity to show off.
This is one of those very few things that I have learned in Scouting that totally confuses me.
I LOVE fire
- making fires, lighting fires, and burning stuff. I like tossing armfuls of leafs on a fire to make a huge cloud of smoke. I like making fire with bow drills, fire pistons, magnifying glass, flint-n-steel, and any other primitive way I hear about. I like flicking a Bic just as well. I enjoy keeping the smallest of flames alive, as well as a roaring bonfire. I get a kick out of bringing seemingly dead ash back to life. But, I'm afraid, I'm a minority - maybe that's a good thing.
When I became a scoutmaster, I was surprised by the lack of skill and interest in firecraft. Sure, the scouts like to poke fires with sticks and play around, but few were capable of, or interested in, getting a fire going.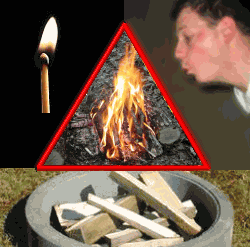 Observing scouts for years, I've discovered these fire fails. Keep them in mind and maybe your scouts will be more successful in their flamboyant conflagrations:
Fire is a Mystery - When someone does not understand how a fire works, he can't make one. The Fire Triangle describes what is necessary for a fire.

Fuel - wood, gas, wax, any flammable material is fuel, but we use wood.
Air - a fire needs to breath. Without air reaching the fuel, the fire smothers.
Heat - the fuel and air combust with heat. The initial heat to start the fire usually comes from friction but could be solar or pressure instead.

If any part of the Fire Triangle is removed, the fire dies. This is the bane of a firecrafting Boy Scout.
Two Big Sticks - A fire needs to start small and grow. Start with tiny slivers of fuel and add gradually larger pieces.
Often, a scout will make a small pile of big sticks and go through a box of matches trying to make one catch. Air is missing - there is not enough fuel exposed to air.
The Plateau Lay - Yes, I know you've not heard of the plateau fire lay. That's because it doesn't work very well. But, sticks laid on the ground - even nice, dry, slivers of fuel - do not make a fire.
Many times, I've seen a scout light a twig and watch it burn out, wondering why it did not catch those twigs around it. Then, he'll light the next twig, and so on until he's out of matches. There's fuel and air, but no heat - all the heat went up into the sky rather than into the fuel laying around it.
Poof - The scout shaves some slivers, makes a nice pile, and lights it. Success! Then, he drops a large piece of wood on and smothers it.
ReDo - Flames quickly leap from the prepared fuel and the scout admires his work. When the flames begin to ebb, he realizes he needs more wood. While he's off gathering more twigs, it goes out and he's back to square one.
Fire making certainly is a mixture of art and science. It's a skill that, once mastered, can serve a scout his entire life. In any situation, he may very well be the only one knowledgeable and comfortable with quickly, safely, and consistently creating fire for heat, cooking, or just entertainment.
Fortunately, a couple years ago, a scout joined the troop with a spark in his eye. He kindled that spark into many a fire - campfire in dry summer, fire for hobo dinners in wet spring, and early morning breakfast fire in 18 inches of snow in dead of winter. Matthew made fires himself. He gathered and prepped the wood, laid the fire, and brought it to life with no help. He renewed my faith that there is still hope for a fire-cooked meal, s'mores, and campfire stories.
For lots more fire starting info, visit
Campfire Dude
.
Scout On
Posted: 13:36 03-07-2013 956
---
Previous Posts
Site Disclosure Statement

---
Contest - Ask a Question - Add Content
Just for Fun: Socializing merit badge





---
This site is not officially associated with the Boy Scouts of America


Find more Scouting Resources at www.BoyScoutTrail.com
Follow Me, Scouts