Wake Em Up Recipe
Ingredients:
3/4 pound ham
3 large jalapeno peppers
6 11-inch flour tortillas
4 cups (1 pound) shredded cheese, colby-jack or mexican blend
10 large eggs
3/4 cup milk
1/4 tsp cumin
1/4 tsp pepper
1/4 tsp salt
1/4 tsp onion powder
1/4 tsp garlic powder
Instructions:
Cut ham into 1/4 inch to 1/2 inch cubes.
Remove seeds from jalapenos and slice thinly.
Scatter one jalapeno across bottom of dutch oven.
Tear 2 tortillas into 1 inch pieces and scatter over jalapeno slices.
Scatter 1 cup of cheese over tortilla pieces.
Scatter 1/4 pound of ham over cheese.
Create a second layer of chilies, tortillas, cheese, and ham.
Create a third layer.
In a bowl, blend the eggs, milk, and all spices.
Pour egg mixture into dutch oven.
Put lid on dutch oven and let it sit for 20 to 30 minutes in a cool place.
Heat dutch oven to about 350 degrees for
Baking
and cook for about 45 minutes.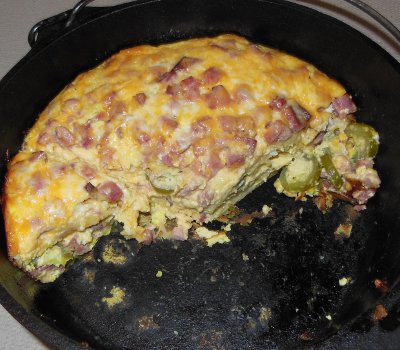 Click one to vote:
Did you like it?

Or not?

---
- Ask a Question - Add Content
Just for Fun: Socializing merit badge





---
This site is not officially associated with the Boy Scouts of America


Find more Scouting Resources at www.BoyScoutTrail.com
Follow Me, Scouts