Shepherd Pie Recipe
This Recipe is meant for Scouts BSA.

Ingredients:
2 lb hamburger
1 green pepper
1 onion
2 celery stalks
1 can diced tomatoes
1 small bag frozen vegetables
3 cups prepared mashed potatos
8 oz. cheddar cheese
salt & pepper
Notes:
main course
Instructions:
Heat dutch oven to 375 degrees for
Frying
.
Brown hamburger.
Dice the green pepper, onion, and celery.
Add green pepper, onion, and celery to dutch oven.
Stir about 5 minutes, until vegetables are soft.
Stir tomatoes and mixed vegetables into hamburger.
Prepare the mashed potato flakes to make 3 cups.
Spread mashed potatoes over top of hamburger/vegetable mix, cover it completely like a shell.
Put lid on dutch oven, rearrange heat, and
Bake
at about 350 degrees for 30 minutes.
Shred the cheese.
Sprinkle cheese on potatoes and bake another 10 minutes or until cheese is melted and golden.
Serves 6 to 8.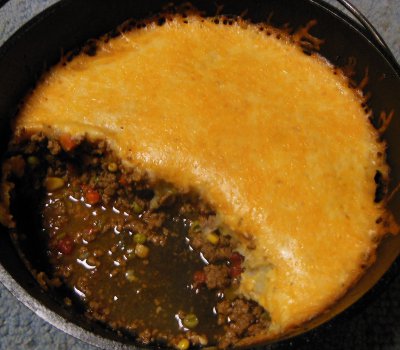 ---
All dutch oven recipes use a 12-inch dutch oven, unless specified. If you have a 10-inch dutch oven, use about 2/3 to 3/4 of the ingredient amounts but keep the temperature and time about the same.
If no temperature is listed, use 350 degrees.
See
Heat Settings
page for temperature and coal placement
for
Frying, Stewing, Roasting, Baking, and Simmering
.
Let me know how you enjoyed your Shepherd Pie!
Send a photo of your meal so I can add it here.
Get 66 favorite recipes in my dutch oven cookbook.
Click one to vote:
Did you like it?

Or not?

---
Comments:
Dec 12, 2013 - baker :)
I am making this for a boy scout extreme outdoor cooking campout this weekend and I hope this is really good and I win with this recipe!
---
Mar 09, 2015 - Madison Tabor, III
This is a super page, our troop is working on the cooking merit badge. This page and web site will surely help our troop. THANKS!
---
Dec 14, 2015 - tom
Awesome recipes! BTW, this is Cottage Pie! Shepherd's pie uses lamb!

Scout on!
---
Feb 02, 2016 - Matt
This recipe should probably be altered to fit camping possibility. It seems unfeasible to burn a campfire at 350...
---
Feb 02, 2016 - Scouter Paul
@Matt - Dutch ovens are not normally used directly on flames. Coals are set aside, the dutch oven is placed on them, and more coals are placed on the dutch oven lid. It's pretty easy to approximate cooking temperatures - see dutch oven heat settings.
---
---
- Ask a Question - Add Content
Just for Fun: Socializing merit badge





---
This site is not officially associated with the Boy Scouts of America


Find more Scouting Resources at www.BoyScoutTrail.com
Follow Me, Scouts