Jamaican Couscous Recipe
This Recipe is meant for Scouts BSA.

Ingredients:
2 tsp olive oil
1 tsp minced garlic
1 15-ounce can chicken broth
1 11-ounce can mango nectar (soda can in Hispanic foods)
3 scallions
1 small red bell pepper
1 15-ounce can corn
2 15-ounce cans black beans
1 4-ounce can chopped green chilies
1 tsp allspice
1 tsp ginger
1/2 tsp cayenne pepper
1/2 tsp cinnamon
3 cups dry couscous
1 small bunch cilantro
Instructions:
Start heating dutch oven over coals to about 300 degrees for
Frying
.
Stir oil, garlic, broth and nectar to a boil.
Slice the scallions.
Dice the bell pepper.
Drain the corn and beans.
Add the bell pepper, corn, beans, and chilies to the dutch oven.
Stir until the liquid returns to a boil.
Remove dutch oven from heat and stir in all spices and couscous.
Cover with lid and let stand for 10 minutes.
Coarsely chop some cilantro leaves, not stems.
Mix to fluff up couscous and serve with chopped cilantro sprinkled on top.
Serves about 8.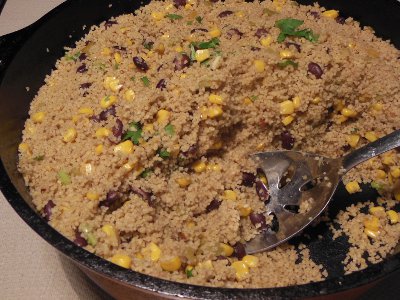 ---
All dutch oven recipes use a 12-inch dutch oven, unless specified. If you have a 10-inch dutch oven, use about 2/3 to 3/4 of the ingredient amounts but keep the temperature and time about the same.
If no temperature is listed, use 350 degrees.
See
Heat Settings
page for temperature and coal placement
for
Frying, Stewing, Roasting, Baking, and Simmering
.
Let me know how you enjoyed your Jamaican Couscous!
Send a photo of your meal so I can add it here.
Get 66 favorite recipes in my dutch oven cookbook.
Click one to vote:
Did you like it?

Or not?

---
- Ask a Question - Add Content
Just for Fun: Socializing merit badge





---
This site is not officially associated with the Boy Scouts of America


Find more Scouting Resources at www.BoyScoutTrail.com
Follow Me, Scouts