Granny's French Toast Recipe
Ingredients:
3 apples - Granny Smith works well
1 loaf of French bread
1 Cup brown sugar
1/2 Cup butter
3 tsp cinnamon (divide into 1 tsp and 2 tsp)
1/2 Cup dried cranberries
6 eggs
1 1/2 cups milk
1 Tbsp vanilla
Instructions:
Peel, core, and thinly slice the apples.
Cut bread into 1 inch thick slices.
Heat dutch oven to 225 degrees on coals for
Simmering
.
Melt butter in dutch oven.
Stir in brown sugar and 1 tsp of cinnamon.
Remove dutch oven from the heat.
Stir in apples and cranberries to coat, then press them flat.
Lay slices of bread on top, cut side up, making one completely filled layer, trying to pack all the empty spots.
Beat eggs and mix in milk, vanilla, and 2 tsp cinnamon.
Pour egg mixture over bread.
Put lid on dutch oven and wait at least 1 hour for bread to soak up the eggs. Overnight is fine if you can refrigerate it.
Bake
at about 350 degrees for about 1 hour.
When serving a slice, flip it upside down onto the plate so the fruit and sugar is on top.
Serves 8-10.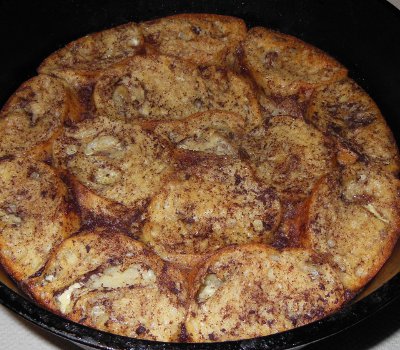 Click one to vote:
Did you like it?

Or not?

---
- Ask a Question - Add Content
Just for Fun: Socializing merit badge





---
This site is not officially associated with the Boy Scouts of America


Find more Scouting Resources at www.BoyScoutTrail.com
Follow Me, Scouts