Super Achiever Award
This Award is meant for Webelos scouts.

---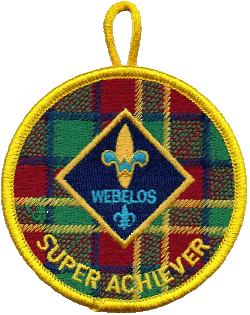 The Webelos Super Achiever award is for Webelos scouts that earn all Adventure pins. This Super Achiever patch is not an official advancement award, but has been a popular way to recognize scouts.
Check with your pack leader to see if you can use it.
This is a "temporary" patch to be displayed centered on the right pocket - you can hang it from the pocket button by the loop on the patch.
Order your Webelos Super Achiever patch.
A recognition patch for this achievement became virtually impossible to find in 2017, but Webelos den leaders still wanted to recognize their scouts. So, this new super achiever patch design was developed and produced for the new program, replacing the historic "20 Activities" patch.
There are also patches for Lion, Tiger, Wolf, and Bear Super Achievers.


Click one to vote:
Did you like it?

Or not?

---
Comments:
Nov 20, 2019 - Gilda Gonzalez
I am old school and I was hoping to assist our new scouts with the super achiever award. I am unable to find the just of the requirements. I was looking on scoutbook and found out that we are not able to earn communicator, so what else are we not able to earn. could you refer me to a list of awards so I can keep on track with our webelos to achieve this super acheivers award.
---
Nov 20, 2019 - Scouter Paul
@Gilda - The requirements are to complete all (currently 27) Webelos Adventures. That's all.
---
Jan 28, 2020 - Heidi
I see 29 Webelo and AOL requirements @scouterpaul.
So if they complete all these then they can be awarded the supernachiever award? There is no place to really mark this in scoutbook.....
---
Jan 28, 2020 - Scouter Paul
@Heidi - there are 5 Webelos required, 4 AoL required, and 18 elective adventures for a total of 27.
The Super Achiever award is not part of regular advancement - it is an optional way to recognize Cub Scouts of all rank levels that complete all adventures for their rank.

Scout On!
---
Feb 18, 2020 - AP
I believe the total adventures is 29 for Weblos Super Achiever. Below is how I come up with 29.

Weblos - 6 (5 Required +1 Elective)
AOL - 5 (4 Required + 1 Elective)
Electives - 18 (20, however you are required to pick 1 for Weblos and 1 for AOL)

Total = 29
---
Feb 18, 2020 - Scouter Paul
@AP - There are 18 Webelos Elective adventures. Plus, there are 5 Required adventures for Webelos and 4 Required adventures for Arrow of Light. So, that's a total of 27 adventures.

You could include the two current "Preview Adventures" for Yo-Yo and Protect Yourself if you really wanted to make it 29 adventures.
---
Feb 18, 2020 - Jane
In addition, Webelos Scouts can earn the preview adventures twice, because there is a Webelos version and an AOL version of the requirements (ery minor differences for Yo-Yo.)

So the total could be 31 total adventures for Webelos and AOL, depending on how you want to count them.
---
---
- Ask a Question - Add Content
Just for Fun: Socializing merit badge





---
This site is not officially associated with the Boy Scouts of America


Find more Scouting Resources at www.BoyScoutTrail.com
Follow Me, Scouts