Pack Competition Award
This Award is meant for Cub Scouts.

---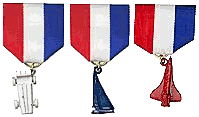 There are three Pack competitions that are commonly held as annual events. Medals can be presented to all participants and blue, red, and white medals present to first, second, and third place.
The competitions are:
Pinewood Derby - gravity powered wooden cars racing down a standard track.
Raingutter Regatta - scout breath-powered sailboats racing in a water-filled raingutter.
Space Derby - rubber-band propellor powered rockets racing on a stretched string.
These medals can be displayed pinned above the left pocket or on a red vest. Up to five medals can be displayed on the uniform shirt.
Click one to vote:
Did you like it?

Or not?

---
Comments:
Mar 29, 2015 - HARRY PROCTOR
Hello! Harry Proctor from Pack 80 here in Seattle. Where to you order your medals from? Thanks..Harry
---
Mar 29, 2015 - Scouter Paul
@Harry - Those medals are available at ScoutStuff.org or at your local scout shop.
---
---
- Ask a Question - Add Content
Just for Fun: Socializing merit badge





---
This site is not officially associated with the Boy Scouts of America


Find more Scouting Resources at www.BoyScoutTrail.com
Follow Me, Scouts