Messengers of Peace Award
---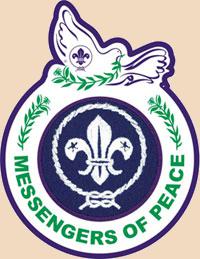 Messengers of Peace is a global initiative aimed at encouraging youth to work toward peace. Taking advantage of social media, scouts from around the world share their efforts in order to inspire other scouts to undertake similar projects.
The World Scout Committee is promoting this program and it is administered by the World Scout Bureau.
Any Scout or Scouter who participates in a qualifying project can wear the Messengers of Peace ring patch. It is displayed around the World Crest above the left pocket of the uniform. Patches can be purchased by a unit representative at a local Scout Shop or council service center.
A qualifying project has a significant impact on the community in one of these three dimensions of peace:
Personal dimension: harmony, justice, and equality
Community dimension: peace as opposed to hostility or violent conflict
Relationship between humankind and environment: security, social and economic welfare, and environment
Getting the Patch
Units that want to purchase patches should submit their Messengers of Peace related projects through the Journey to Excellence website and check the 'Messengers of Peace' box. This adds the project to the map on the Messengers of Peace website and generates a unit certificate which should be taken to the Scout Shop to purchase patches.
Some Project Ideas
Personal Dimension:

Holiday party for children of prison inmates
Book drive for inner-city school
Visit nursing home residents
Participate in Feed the Children, Feed My Starving Children, Toys 4 Tots, or other organization charitable efforts

Community Dimension:

Build a community prayer or meditation garden
Paint over graffiti with peace-related murals
Participate as 'victims' for CERT or EMT training courses
Host a day of games, sports, and activities that brings together kids from different segments of your community

Environmental Dimension:

Conduct a park, schoolground, campground, or river clean-up day
Remove invasive species
Clear brush from fire buffer zone
Perform shoreline or natural area restoration



Click one to vote:
Did you like it?

Or not?

---
Comments:
Jan 18, 2013 - Laura
Hi Scouter Paul, I actually had to call National and found out there was a glitch in their system. All fixed now. :)
---
Feb 25, 2013 - carolyn
Hi! Can you tell me if this award is open to Cub Scouts? Thank you.
---
Feb 25, 2013 - Scouter Paul
Carolyn - yes, it is.
---
May 26, 2013 - Gregory J Mullowney III
I have a ? Can u count a project u have done in years past I'm a us marine and I help with toys for tots every year and so does my my father we are unit commissioners in Denver Co thanks Gregg
---
Jul 31, 2013 - Mike
Can Scouts who participated in the MOP service projects at Jambo wear the ring? I see that the project needs to be a unit project, and I assume that the provo troops who went to Jambo count as units for this, but I am unsure. Does anyone know? Thanks.
---
Aug 29, 2013 - Tusi
I need to know i if my son can work on these requirements to earn this patch it will be ok,and how i can let the scout master he will get that patche..thank ou
---
Feb 18, 2015 - April Borge
Does the Messenger of Peace award remain on the uniform when the boys bridge from Cub Scouts to Boy Scouts?
---
Feb 22, 2015 - Scouter Paul
@April - All cub scout recognition items except the Arrow of Light patch should be removed when a scout joins a troop.
---
Apr 18, 2015 - Major Dad
Not all patches are removed, any Knots earned stay on for life. Any trail Medals earned can stay on and there are a few other patches that transfer.
---
Apr 18, 2015 - Major Dad
Ham radio patch if earned is not removed as long as you hold a current license, also the interpreter patches stay.
---
Apr 24, 2016 - Heena Attar
Hey I am a Guide Captain..from India..and I m not a scout...So am I eligible to earn a MOP award?? Or only a Scout can participate in this?? Please reply
---
Mar 01, 2017 - jonathan keifose
i am a scout,i want to create a better world
---
May 01, 2019 - Terry Scofield
Our troop is planning a trip to Kenya.
We are planning to take books to 2 rural schools in Kenya to create libraries for each school. Would this project be a qualifying project for Messengers of Peace Award since we will hold a book drive to collect books for the schools?
---
May 01, 2019 - Scouter Paul
@Terry - The BSA has a helpful page that says a project needs to be approved only at the unit level and needs to support their definition of peace. What you are planning to do certainly sounds like it fits the requirements to me.
---
Jul 30, 2019 - Tom Williams
As a Scout and Scouter pretty much for my entire life, I've amassed a number of patches. One is the traditional purple and white "Friendship" patch worn above the left breast pocket. My particular patch is exactly the same as today's but has the words: "For Friendship 1967". Has anyone else seen one? Does anyone else have one? Does anyone know anything about this patch?

Thanks,

BTW: I live just north of the National HQ and I've gone to the museum to see if anyone knew anything. None of the folks on staff the day I went in knew anything although they did admit that they weren't the best folks to ask.
---
Aug 02, 2020 - Tom Champ
I have read where Scouts who participated in Eagle Service Projects, qualified for MOP award?

Also read that Scouting for Food qualified for the MOP award?

Is there a list gathered giving examples of projects that qualified for the MOP award?
---
Aug 02, 2020 - Scouter Paul
@Tom - See MoP FAQ where it states "any projects undertaken within a Scouting context that impact peace" can qualify, and there are some examples.
---
Aug 03, 2020 - Jane
9.0.2.16 Eagle Scout Service Projects and Messengers of Peace

...
Since Eagle Scout service projects are conducted for religious institutions, schools, or the community—and would thus directly or indirectly impact one of the three dimensions—almost all Eagle projects would certainly qualify as Messengers of Peace projects. Thus, when reporting project hours through the Journey to Excellence service hours website, "Messengers of Peace" should be selected as one of the categories for the project description.

www.scouting.org/resources/guide-to-advancement/eagle-scout-rank/#90216
---
Aug 03, 2020 - Jane
Also:

Messengers of Peace Service Project Ideas

www.scouting.org/international/messengers-of-peace/service-project-ideas/
---
---
- Ask a Question - Add Content
Just for Fun: Socializing merit badge





---
This site is not officially associated with the Boy Scouts of America


Find more Scouting Resources at www.BoyScoutTrail.com
Follow Me, Scouts