Grand Slam Award
This Award is meant for Scouts BSA.

---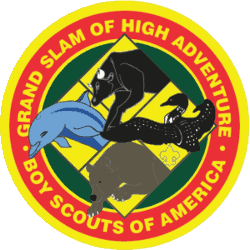 The High Adventure Grand Slam award is available to scouts and scouters. There is no time limit on earning the award. Some participation requirements can be completed as a youth and the rest as an adult.
To receive the High Adventure Grand Slam award, you must complete a high adventure program at each of the four BSA national High Adventure bases - Philmont, Northern Tier, Sea Base, and the Summit. These can be summer or winter programs. For example, either summer Canoeing or winter Okpik programs at Northern Tier qualify.
The basic rule is that if you receive a participant emblem/patch from the High Adventure base during your program, it qualifies as your participation requirement for that BSA high adventure base.
Programs hosted by the four bases and their satellites that do not qualify for earning a BSA high adventure participant award do not qualify as meeting the Grand Slam requirement. Examples include attending training such as Wood Badge or similar programs are not qualified.
You will need to supply the program, crew number, dates, and staff member name for each of your four high adventure treks. A dedicated website has award details.

Use the Grand Slam Award application to get your award patch.
Not ALL visits to the national high adventure bases count towards this award. See the qualified programs list linked on this page.
---
Scouts and Scouters that participate in qualified programs at any three of the four high adventure bases can earn the
Triple Crown award
.
Click one to vote:
Did you like it?

Or not?

---
- Ask a Question - Add Content
Just for Fun: Socializing merit badge





---
This site is not officially associated with the Boy Scouts of America


Find more Scouting Resources at www.BoyScoutTrail.com
Follow Me, Scouts