Tieing the Reminder Knot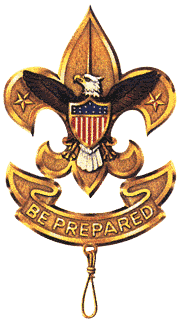 Hanging from the bottom of the scroll on the Second Class Scout rank badge and First Class Scout rank badge is a knot. The purpose of the knot is to remind a scout to do a Good Turn Daily, similarly to a person tying a string around their finger to remember something.
The question of what that actual knot might be occasionally comes up and I've been asked how to tie it.
The knot is an overhand knot tied on a bight. These images should help explain how it can be tied.


Tie a simple overhand knot in the bight of rope. Leave the knot loose.


Put the bight through the ring on which it will hang.


Pull the bight through the loose overhand knot.


Cinch the knot tight.


This is not a common scouting knot and has few uses, but now you can impress your scouting friends by tying it.
Practice it until you can do it well and use a fairly short piece of rope so the ends stay short and it looks like a small loop.
---
Comments:
Jan 07, 2014 - Ian Cambra
thank you so much. I have been looking everywhere for this knot so I can use it in my Eagle Scout court of honor.
---
Apr 10, 2015 - Billy bob joe
This was very helpful
---
---
- Ask a Question - Add Content
Just for Fun: Socializing merit badge





---
This site is not officially associated with the Boy Scouts of America


Find more Scouting Resources at www.BoyScoutTrail.com
Follow Me, Scouts