Veteran Award
---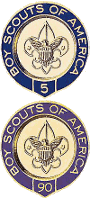 The BSA Veteran award recognizes individual members for tenure in Scouting. The recognition item is a lapel pin denoting the number of years of service. This pin is worn only on civilian clothing and not on the scout uniform.

The veteran award is an adult recognition only. However, tenure earned as a youth may be included in the total number of years registered.

Pins can be purchased at the local scout shop after confirmation is received from national records. Currently, 5-year to 90-year pins are available on scoutshop.org
After five years of registered service in the Boy Scouts of America, an adult may, upon application, receive the designation of "Veteran," provided the person agrees to live up to the Scouting obligations; to keep local Scouting authorities in the community in which residing informed as to availability for service; and further, to be as active in the promotion of the cause of Scouting as circumstances and conditions permit. Service in Scouting organizations other than the Boy Scouts of America does not count toward veteran recognition.
An individual must currently be a registered member of the Boy Scouts of America in order to receive an award.
An adult designated veteran pays the regular registration fee if desiring to continue to retain active connection with the movement.
Scouters desiring recognition as veterans must have maintained an active registered relationship for the required number of years, paying the annual registration fee.
The records of the national office and local council shall determine eligibility.
The periods of service claimed for veteran recognition need not be continuous.

View application form.
Click one to vote:
Did you like it?

Or not?

---
Comments:
Nov 19, 2013 - Deb Z.
Regarding the Veteran Award, I thought I heard that it was a volunteer recognition. I am confused by this line from the article above: "An individual must currently be a PAID registered member of the Boy Scouts of America in order to receive an award." So, as a volunteer, am I ineligible for this award?
---
Nov 19, 2013 - Yukon Jack
@ Deb. You are eligible and it is a volunteer recognition. "Paid registered member" doesn't mean that you get paid, it means you paid your $15 (raises to $24 in 2014) annual fee for membership.
---
Nov 05, 2014 - Cathy Sanderson
I would like to know what the record is for a veteran scouter. My husband will earn his 70 year in another year and would like to know if there are others with that amount or more of years of tenure.
---
Nov 05, 2014 - Scouter Paul
@Cathy - I found online news articles of 75 year awards in Pennsylvania and Nebraska. You'd need to contact the BSA national headquarters directly to find out if they are tracking a record setter.
---
Nov 30, 2017 - Jay
My great grandfather was a recipient of a 75 year pin. It has a small inset diamond. I do believe they had to make it at that time as he was the first recipient. Member of Troop 1 in the Columbiana Council in Ohio.
---
Mar 16, 2018 - Herb Lederman
Wow, 75 years of service, that's Amazing. Sending my Heartiest Congratulations to any and all who achieve it. In August, I will have made 50 years. I'm 83, so there's no way that I will make it to 75 yrs., unless of course I live to be 108 which I strongly doubt. I'll just have to be content with the Silver Beaver and 15 knots.
---
Feb 13, 2020 - Dogbyt
The 75 year pin with diamond needs closer scrutiny by the people that approve such things. The Eagle head faces left, incorrectly, instead of facing right, and the Fleur-de-lis stars are missing. Otherwise, the maker spelled Boy Scouts of America correctly.
---
Oct 01, 2020 - Shawn Leman
Trying to figure my tenure for veteran scouter award:
I was a scout for 12 years (1st - 12th grades). I achieved Eagle. Now as a father I've been an adult leader for 5yrs.
So is my tenure 17yrs? Or since I achieved Eagle do those years in between scouter and leader count towards my tenure? I seem to recall being told that those who achieve eagle are registered for life.
---
Oct 09, 2020 - Mark Loehrer
I have a question regarding several patches I'm attempting to identify in a collection I work with at a museum. Keeping to topic I'll limit my question here to a patch, a horizontal blue with gold embroidery (border and text) that reads "Veteran Camper." Does anyone know what this might be referring to? The scout in question was a storied leader in the St. Louis council between 1949-1985, so it could be any one of those years though it's in good condition and appears more modern in design.
---
Oct 09, 2020 - Scouter Paul
@Shawn - You should only count years for which you were a registered member of the Boy Scouts of America. In your case, it sounds like that would be 12+5=17 years. The saying is "Once an Eagle, Always an Eagle", but that doesn't mean your BSA registration continues.

@Mark - BoyScoutTrail.com isn't involved in the vintage scouting memorabilia realm. But, there are many sites that are, and probably be able to help you out. See this Google Search page.
---
---
- Ask a Question - Add Content
Just for Fun: Socializing merit badge





---
This site is not officially associated with the Boy Scouts of America


Find more Scouting Resources at www.BoyScoutTrail.com
Follow Me, Scouts