Scout Pack Troop Gifts
Need a unique gift for a scout or for the Pack/Troop? Here's a few items I've tried out this past year that might fit the bill. Just click the name to read more about the product.
Woody Dutch Oven
- As I've used my aluminum Woody dutch oven this year, I've come to really appreciate the lighter weight, easy clean-up, and rectangular shape. My favorite
enchiladas
fit much better in the rectangular shape.
Since the aluminum doesn't rust, seasoning and oiling isn't so crucial and the low weight makes it easier for scouts to handle. Oh, they also stack nicely and hold coals well.
EZ Grill
- good idea for an occasional outdoor cooking need. Packs that have a summer cook-out can use a few EZ Grills instead of gathering messy personal grills, charcoal, and fluid, and then cleaning and returning everything.
These disposable grills just light, cook, and recycle the lightweight aluminum shell and bit of paperboard packaging. We had a patrol use one for their open fire cooking and they made great hamburgers.
FireLight Fire Piston
- Wilderness Solutions has had wooden fire pistons for years and I've carved them for Eagle gifts. They came out with composite pistons a couple years ago and now have a transparent version so you can see the flash of ignition - way cool!
Plus, it has a hidden fire steel inside the piston shaft for a 2nd fire starting method bonus.
Indoor Campfire
- a great prop for winter Pack meetings, den meetings, or any other time when simulating a camping setting is desired.
Our troop just used one for their overnight lock-in just there'd be a flickering light after 'lights out' time. There's no heat because it uses a huge array of LEDs, but the fluttering cloth
flame
looks hot.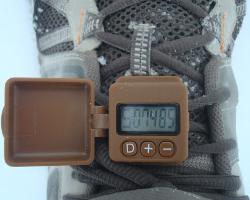 GeoPalz Pedometer
- Since I'll be hiking a couple thousand miles next year, I thought it would be fun to know how many steps I hike. I got a GeoPalz because their website lets you track your steps and win prizes. The goal is to have incentives for youth to get out and be active, and take steps towards a goal. It's small, easy to operate, and very accurate. Wouldn't it be fun to know how many steps a Philmont trek really is?
Scout On
Posted: 10:25 12-07-2011 714
---
- Ask a Question - Add Content
Just for Fun: Socializing merit badge





---
This site is not officially associated with the Boy Scouts of America


Find more Scouting Resources at www.BoyScoutTrail.com
Follow Me, Scouts