Cairns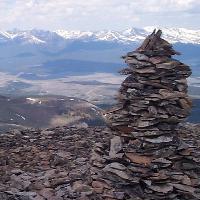 I'd like to elaborate on two points that came up in the comments of my last post - and thank you for all your thoughts.
Cairns vs. Art
Some people mentioned that rock cairns are useful for marking the trail so the rock stack I found should be left alone. The rock stacks were most definitely
NOT
cairns. The trail is manicured and so encompassed by forest that a person would need to work at getting off the trail.
Rock Art does not adhere to the ethics of
Leave No Trace
. Some of the specific LNT items to consider are:
Use a map and compass to eliminate the use of marking paint, rock cairns or flagging.
Leave rocks, plants and other natural objects as you find them.
Do not build structures, furniture, or dig trenches.
Respect other visitors and protect the quality of their experience.
If a person subscribes to the LNT philosophy, then piling rocks isn't something that person would do. It is something we should be teaching youth not to do when we have the opportunity.
There is certainly a place for rock art, and nature art in general. Some people make a living from it - see
Andy Goldsworthy
. But, we shouldn't be building artworks in the wild, or on public lands, and leaving them for others to observe after our hike.
Building Cairns
Cairns are definitely useful in some areas. Many land management groups build and maintain cairns to mark the trail, similar to blazes on trees. For example, see this
cairn construction
page. A group spends time removing unofficial cairns and rock art to improve the usefulness of the maintained cairns.
In a pristine environment, hikers should have the opportunity to feel like they are the first explorers. No trail markings are needed through an area with no trail. Cairns in a pristine area may concentrate traffic to a specific path, creating a trail counter to LNT philosophy, rather than dispersing traffic to keep the area pristine.
In an area with established trails, cairns or blazes made by the responsible land agency are adequate. Individuals adding to them can cause confusion and unneeded visual impact.
Here are a couple other pages you might review -
Leave what you find
,
LNT Blog
If you
are
a proponent of LNT, please take care in how the philosophy is shared with others. You can do it reasonably in an effort to help others understand the value, or this way - http://www.youtube.com/watch?v=Jdfr9x8M8Vw
Scout On
Posted: 11:00 12-05-2011 713
---
Comments:
Nov 13, 2017 - nancy ellenbecker
I realize this post is really old, but being scotch, I have to say rock cairns are not for art. They are a memorial to someone who has passed away. You probably stumbled across a memorial to someone who died near there. Leave it be.
---
---
- Ask a Question - Add Content
Just for Fun: Socializing merit badge





---
This site is not officially associated with the Boy Scouts of America


Find more Scouting Resources at www.BoyScoutTrail.com
Follow Me, Scouts