Campfire Safety
There were a few small fires in the Bighorn Mountains of Wyoming this past week. Fire managers believe they were caused by untended campfires. Fortunately, they only burned less than 100 acres. Not a big deal.
Last year, a wildfire in Arizona burned over 840 square miles. It was the result of two young men leaving their campfire without completely extinguishing it. They were just ordered to pay $3.7million dollars - this is only a small fraction of the $73 million spent battling the wildfire.
I don't know about you, but I sure couldn't afford that if I had some scouts out and we left our campfire to run wild.
Even though the weather is cooling off, fire danger is still high until rains and snow dampen the forests, so this advice may be relevant for those of you heading out camping tonight.
Along with the fun of a campfire, comes great responsibility. Besides being skilled at starting a fire undewater with just two sticks, a good outdoorsman will prepare his fire site, use appropriate fuel, maintain safety around the fire, and guarantee the fire is out cold before leaving it. All you should need to have a fire is a match, a knife, and a water bucket.
Preparing the Site:
The best rule of thumb is to only have a fire in an established fire ring. By doing this, no further impact to the land will be made and the fire will be easier to contain. If you make a fire outside an established ring, there is no real need to gather rocks and create a ring. Just build the fire on a suitable spot. Guidelines for a suitable spot are:
Choose a spot 15 feet away from trees and brush which may have shallow roots under the fire.
Have your fire downwind from your tent and gear.
Clear all flammable material from the ground for 5 feet around the fire.
Ensure no branches are hanging above the fire.
Only have a fire where there is plenty of available wood to burn.
If the weather is very dry and/or windy, have a fire some other day.
Use Appropriate Fuel:
Tinder, kindling, and fuel get the fire going, build it up, and then maintain its life. The choices you make for fuel can help reduce impact and make a better fire.
Find dry wood under trees, more likely on the southeast side.
Leaning sticks are usually more dry and solid than sticks flat on the ground.
Use pine needles, pinecones, and grass rather than leafs for tinder.
Split sticks or shave off bark with a knife to expose dry inner wood.
A stick split in fourths has more points and edges to catch fire than a full round stick, especially one with bark still on it.
Leave dead wood still attached to a tree, just take what's on the ground.
Soft or very light wood is rotting and won't burn well, even if dry.
Choose wood you don't need an axe to chop or split - usually smaller than your wrist can be broken by hand or foot.
Trash is not fuel - pack it out instead.
Stack your wood upwind and at least 5 feet from your fire.
Maintain Safety:
Fire is the most dangerous thing man brings into the wilds. It is dangerous to forests, animals, and humans. To be safe:
Have plenty of water ready to put it out even before lighting the fire.
Keep activities away from the fire.
Keep the fire to a small, manageable size.
Ensure someone is always responsible for watching the fire.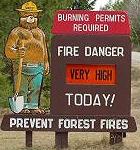 Extinguishing the Fire:
Every year, there are stories of
I thought it was out
. It's simple to kill a fire and there's no excuse for not guaranteeing your fire will burn no more forever.
Start extinguishing your fire at least a half hour before you plan to leave.
Burn wood completely to grey ash. Using smaller pieces of wood helps.
Sprinkle water on the fire, being careful of the steam.
Continue to add water, drowning all coals, not just the red ones
Stir campfire ashes and embers with a shovel, stick, or stake
Scrape sticks and logs to remove any hot embers
Let the fire sit for 10 minutes.
Stir and make sure everything is wet and cold to the touch
Hover your hand low over the fire, feeling for warm spots. Break up and re-douse any you find until there are none.
If you do not have water, you should not have a fire. Just burying a fire does no good - it can burn for days and spring back to life.
In some areas, you should clean the ash and coals from the firepit and disperse them far off in the woods. Other places prefer you leave the ash in the firepit, or deposit it in a can. Find out before you go which is suggested.
If it's too hot to touch, it's too hot to leave!
Posted: 13:04 11-09-2012 926