Gotta Hike Now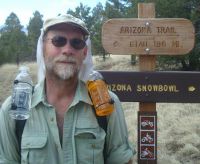 Rats, the local newspaper printed a story so now I actually have to go hiking -
Read It
.
I've got everything packed.
I've left an itinerary at home with all my expected camp spots and mileage, which will be outdated after the first day.
I have two food caches ready to be placed.
I've got extra batteries for my Spot Messenger.
The weather forecast looks ok. The leafs are supposed to be turning color. Should be great!
My wife drops me at the Canadian border on Saturday to walk south to Duluth. If you want to get my hiking blog entries while I'm on the trail, just 'Like'
HikingDudeBlog
or for just scouting related posts, Like
BoyScoutTrail
.
Remember, you could use this as a perfect time to get involved in the
ScoutStrong Challenge
to improve active lifestyles and maybe win some prizes.
See you all in a couple weeks.
Scout On
Posted: 15:54 09-13-2012 896
---
- Ask a Question - Add Content
Just for Fun: Socializing merit badge





---
This site is not officially associated with the Boy Scouts of America


Find more Scouting Resources at www.BoyScoutTrail.com
Follow Me, Scouts