Old Favorites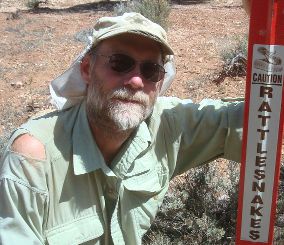 Guys like me really try to get all they can out of a purchase. I like to think I'm thrifty, but some folks would just call it cheap. I drive a 24 year old car that gets 33mpg and refuses to die. I have a laptop that still works from 1994. My lawnmower is at least 15 years old. But, sometimes even guys like me have to break down and buy new stuff.
In this photo, you can see me at the end of my Arizona Trail Hike - my old favorite shirt is completely worn through and my old favorite BSA hat is fraying. I haven't thrown out the shirt - I use it in my Wilderness First Aid training scenarios. But, the hat is finally gone.
Now, I didn't throw it away. I kept wearing it this summer. While sailing a Sunfish on a lake up north, the wind ripped it off my head and PLOP! into the drink. I circled around and almost got it three times before it finally sunk away out of sight. Sigh!
So, today I visited the scout shop and bought a brand new, bright, crisp, green hat. I expect after 300 miles of wearing it on the Superior Hiking Trail this month, it will be my new old favorite. I also have a new, sweat-wicking shirt but I don't think it will ever be a favorite. It just doesn't have the right feel.
Do you have an old favorite that should probably be replaced but you keep on making it work?
Scout On
Posted: 20:27 09-04-2012 892
---
- Ask a Question - Add Content
Just for Fun: Socializing merit badge





---
This site is not officially associated with the Boy Scouts of America


Find more Scouting Resources at www.BoyScoutTrail.com
Follow Me, Scouts