Scoutmaster Musings
Wanna Hike?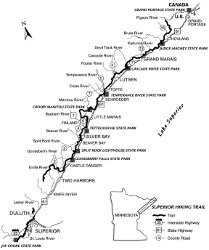 My son just got back from a week backpacking trip without me. The troop leaves tomorrow for a week backpacking trip without me. I need to get out on another trek!
I've been hiking about 8 miles each morning and looking around for a long, but not too long, trail to do.
The
Superior Hiking Trail
is perfect. It's almost 300 miles, close to home, and I've not hiked it yet.
I plan to start walking south from the Canadian border to Jay Cooke State Park in Duluth, MN on Sept. 15 and would love to have some scouts or scouters join me for all or part of the trek. I figure it will take about 2 weeks, give or take a couple days. There's a 10 mile or so section not yet completed just north of Duluth, but the North Shore Trail runs through there and I plan to follow it as a connecting route.
There are about 90 established campsites along the trail, most with latrines, tent pads, firepits, and water source so the camping part should be quite easy. I expect to carry no more than 4 days of food and very little water since there is such easy access to water and resupply points.
September seems to me like a great time to hike this trail:
Summer heat and humidity is gone. The weather should be cooler and no thunderstorms, but not too cold yet. The average hi and lo temps are very nice.
No bugs. Mosquitos, ticks, and black flies should all be gone or nearly so.
Fall colors are changing. This is right around the best time for the show to begin. If I'm lucky, this might be a great year for colors.
Wildlife. Animals should be very active preparing for winter so I might get to see a lot.
Fewer people. School will have just started so I should have the trail pretty much to myself during the week with more day-hikers on the weekends.
Besides, my youngest son will be off to college and my wife will be very busy with her first few weeks of teaching. It's a good time for me to be out of the way. :-)
I already have my food purchased and left over from my Arizona hike. I already have all the gear I need. I'm in shape to start. This should be an inexpensive, relaxing trek and a great time exploring part of my own backyard that I've not made time to visit yet.
Interested in joining me? If you are, just send me an email and maybe we can work something out. If you'd just like to join me for a few days, or a weekend, or a day hike, that would be cool. I'll be tracking my progress and blogging along the way so you can just stop and say HI as I walk by if you're in the area.
If your troop wants to plan a hike for a day or overnight on Sept. 21, 22, 23, 28, 29, or 30, just contact me and we can plan something. I'll have a Scout Shop gift card along for any troop that hikes with me - it does get lonely out there. :-)
Scout On
Posted: 9:30 08-03-2012 881
---
Contest - Ask a Question - Add Content
---
This site is not officially associated with the Boy Scouts of America


Find more Scouting Resources at www.BoyScoutTrail.com
Follow Me, Boys
Sell Fire.
Make Money.
Click Here