Scoutmaster Musings
Trek Poles

My sons got me these Outdoor Products trek poles for Christmas and today I tried them out for the first time. I was a little clumsy. I hit my foot with the pole a few times. I kicked the pole with my foot a few times. The tips skidded on the ice a few times.
Now, don't think I'm complaining here - I'm just letting you know that there's a short learning curve for any new piece of gear and gear should be used as intended. The rails-to-trails path I used today was flat with no need for the extra push or support from the poles - I was just trying them out. I'll just compress the poles and hook 'em on my pack when going along a path like this on my long hikes.
I expect I'll find them very useful when I start my rough trail practice next month. For now, I'd like to let you know my first impressions. And, basically, I think these would be great for scouts/scouters heading to Philmont or other backpacking treks.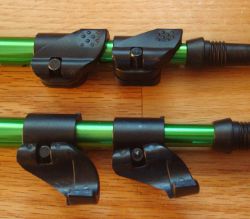 Here's my thoughts on these Outdoor Products poles:
They are aluminum with rubber handles and cam-locks. I like how the locks flip and hold rather than screw. You will need to adjust the cam-lock mechanism to ensure it clamps down hard enough to hold.
There are three sections to the pole so they compress down to 25 inches which makes stowing on a pack pretty easy when not being used. Since they are easily adjustable, they can be shared with others without much hassle. The sections come completely apart so I really have 6 short aluminum tubes for emergency use.
Without the rubber foot and basket, each pole weighs 9.7 oz. I don't plan to use the basket since it will just catch on brush and my pants.
The rubber handles feel good to me, but the dense plastic makes them heavy and I'm anxious to see how they feel on hot, sweaty trails.
The shafts adjust from 25 inches compressed to 54 inches extended. The carbide tips, baskets that easily unscrew, and rubber foot covers are all pretty nice.
These poles will also be my shelter supports on my long hikes and they seem solid enough for that job.
I like the metallic green color - it's pretty low-impact. They come in blue, too.
So far, I think I got a great present here! I believe they're a good item for folks like me that haven't used trek poles before and are learning how it all works. The $30 for the pair makes them a scout-affordable item as well. You can get poles that weigh half as much, but justifying the $$$ to ounces exchange rate can be a challenge.
Scout On
Posted: 15:37 01-17-2012 733
---
Contest - Ask a Question - Add Content
---
This site is not officially associated with the Boy Scouts of America


Find more Scouting Resources at www.BoyScoutTrail.com
Follow Me, Boys
Sell Fire.
Make Money.
Click Here